June 19th is the REAL freedom day when the word that slavery had ended finally reached the enslaved people of Galveston, TX.
A holiday just as important as the 4th of July, and with Chicago being a major destination of freed African Americans
fleeing the Jim Crow south in the Great Migration, this is the perfect city to celebrate in!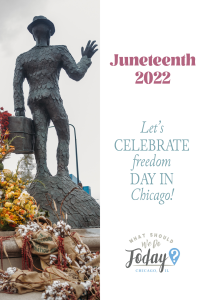 Here are some fantastic ways to celebrate this weekend!
Remember our virtual story time from 2020? If you can't make it out to any of the below events, watch our Colors of Chicago story time of Juneteenth For Maisie!
Clear The Shelves w/ Semicolon and Kido!
June 18th, 2022 from 10 AM – 1 PM
150 WEST, located in the Roosevelt Collection Shops at 1023 S. Delano Ct.
Free books, toys, and good vibes for kids!
If you have or know of a CPS student or child in need, register! They will be giving away books for all ages and baby gear.
"Since the first donation, we've given away over $650k worth of books to Chicago's students! While it isn't always what's best for turning a profit-it IS always best for the literacy levels of families who cannot otherwise afford access to books that they can keep for a lifetime."
Juneteenth at Bronzeville Children's Museum
Saturday, June 18th from 1 -3 PM
9301 S. Stony Island Ave
$5 per person, members free
Masks required
Crafts, storytelling, live music, and more!
Harold Washington Cultural Center: 4701 S. King Dr.
6-19-22 at 1:00 PM
"M.A.D.D. Rhythms returns on Sunday, June 19 at 1 p.m. with the arts partners of the Harold Washington Cultural Center and Bronzeville businesses, for its annual Juneteenth celebration. This afternoon celebration includes live dance, DJ and music, complimentary food, workshops, raffles, art and children's activities."
Performances by M.A.D.D Rhythms, Sammy Dyer School of the Theatre, Blu Rhythms Cru, Broadway In Bronzeville, The Happiness Club, & Chicago Tap Theatre
Beverly / Morgan Park Juneteenth Family Festival
Saturday, June 18th 2022
Beverly / Morgan Park: 110th Place and Longwood
11 AM – 7 PM

Storytelling
African Djembe Drumming Lessons
Thrive Cardio Dancing
African Dancing
Vendors
Food
Music
Live Entertainment
Activities for Kids and the Entire Family
And So Much More…
Friday – Sunday, June 17th – 19th 2022
GARFIELD PARK'S MUSIC COURT DRIVE (THE CIRCLE) MADISON & MONROE/HAMLIN & CENTRAL PARK, CHICAGO, IL
Friday:

3 PM: Military Honors & Flag Raising Ceremony
6 PM: Night Light Football

Saturday & Sunday:

11 AM – 8 PM
"The Circle" Family activities & workshops

Sunday

12 PM: Fathers Day Grill and Live Entertainment
Juneteenth "Community Recommitment" Celebration
Monday, June 20th 11 AM – 10 PM
"Neighborhood parade starts at 9 AM at Gately Stadium Park. The parade will conclude at the National A. Philip Randolph Pullman Porter Museum entrance (817 East 104th Street, between Corliss & Maryland Ave) followed by a community festival that will take place on the museum grounds, Corliss, and Butler College Prep directly across the street from the Museum."
"Our annual free celebratory event will have something for everyone including live performances, vendors, speakers and interactive activities for children," said NAPRPPM President David Peterson, Jr. "The goal of this event is to create a festive environment in the community, where individuals or, the whole family can come out to enjoy and celebrate African-American history, heritage, and culture."
Juneteenth Festival On The Square
June 19th at 1 PM
1016 North Dearborn Street
"Congo Square Theatre presents its 2022 Festival on the Square–a celebration of arts, healing, and Black joy, including live music, theatrical readings, and much more!"
Dusable Museum of African American History
Saturday, June 18th: 10 am

"The DuSable Museum of African American History is entering a new era. After more than 60 years, the nation's first independent museum of Black history will unveil exciting new changes during a special announcement and media event on June 18. The historic announcement event will feature speeches from various museum executives and board members such as DuSable President and CEO Perri Irmer, along with other special guests."
Following Dr. Irmer's remarks, the museum will be FREE and open to the public from 11 a.m. – 4 p.m.! 

Sunday, June 19th: 11 am – 8 pm

The Juneteenth BBQ & Block Party
"The DuSable Museum and Chance the Rapper present The Juneteenth BBQ & Block Party! A family Affair!

Come for the Good Conversations, Special Performances, History + Art + Food + Fashion."
Civil War to Civil Rights at Oak Woods Cemetery
Sunday June 19th & Monday June 20th at 1 PM
Advance reservations required
1035 E. 67th St., by the S. Greenwood Ave. gate
"Hear the stories behind the people buried at the beautiful and tranquil Oak Woods Cemetery on Chicago's South Side, from important local African Americans who fought for Civil Rights to Confederate prisoners of war."
Saturday June 18th from 12-2
This two (2) hour bike ride will start at the Harold's Chicken, 35th and Indiana (located in Bronzeville) at 12:00pm, and end at Harold's Chicken #88, 1450 South Michigan. at approximately 2:00pm. Refreshments will be available for purchase at the end of the ride!
Come explore Chicago's historic Bronzeville neighborhood w/ Dilla!
Book online to reserve a time slot for Saturday June 18th or Sunday June 19th
"Visit sites like the birth place of Black History Month, the Eighth Infantry Armory, and the Supreme Liberty Life Insurance Building. Gain a better perspective of the historic south side and learn how it changed the world. From the 1st open heart surgery, to Ida B. Wells-Barnett mansion there is a ton of history to be seen. And we can't forget Pilgrim Baptist Church, which is consider the birth place of gospel music."
The Woodlawn's Juneteenth Block Party
Sunday, June 19th from 12 PM – 10 PM
The Woodlawn 1200: 1200 East 79th Street Chicago
Rooftop parties, spoken word, live music, cultural activities, kids club, and more!
Purchase tickets online
Opal's National Walk For Freedom
Saturday, June 18th, 2022
Evanston
The parade will start route at 10 a.m. staging at the Robert Crown Center area lot. Parade will travel down Dodge street and end at the Civic Center parking lot (Ingraham Park) with additional festivities food and vendors.
"Juneteenth, now officially Juneteenth National Independence Day commemorates the emancipation of enslaved people which occurred two and a half years after the emancipation proclamation and originated in Galveston, Texas."
Oak Park's Juneteenth Celebration
June 19th at 11 AM
"Oak Park's Juneteenth celebration culminates with a parade and community cookout on Sunday, June 19. The parade steps off at 11 a.m. from Longfellow Park near Jackson Boulevard and will march north on Ridgeland Avenue to Augusta Street. Community groups and organizations are invited to participate in the parade."
Following the parade, a community cookout will be held starting at 1 p.m. at Taylor Park, 400 Division St.
June 18th, 2021 from 12 -7 PM
Proksa Park, 3001 Wisconsin Ave
"Happy Juneteenth! Our goal is to infuse Black Lives Matter & Black Liberation content with Black Music Month into a celebration of life and manifestation of freedom while showcasing unity.
Please join us in advocating and in celebrating!"
Children's activities include:

Bouncy house
Seed planting station
Biodiversity maze
Obstacle course / scavenger hunt
Face painting
Juneteenth Pier 31 Fest (All Day Beach Bash)
June 19th. 10 AM – 10 PM
3100 S. Lake Shore Drive
DJs, beach games for all ages, and reservable beach tents!
"Everyone's invited to join us at PIER FEST 2022 to celebrate the freedom and power of Black Ownership."
Eat at a Black owned restaurant. The full list of restaurants is available at the Black People Eats Instagram account: 
Juneteenth restaurant list drops on Thursday, June 16th!
Don't forget about our Bronzeville Scavenger Hunt!
Thousands of African Americans fled the Jim Crow south and created a Black metropolis in the Bronzeville area of Chicago.
Juneteenth is the perfect day to explore this historical area and our scavenger hunt from Black History Month is a wonderful way to explore!
https://whatshouldwedotodaychicago.com/wp-content/uploads/2022/06/IMG_4407.png
2048
1365
Helen Bosacki
https://whatshouldwedotodaychicago.com/wp-content/uploads/2019/05/What-Should-we-do-today-Chicago-desktop_03.png
Helen Bosacki
2022-06-15 20:06:46
2022-06-16 20:00:55
Juneteenth in Chicago 2022