I am sure we have all asked our children to prepare cards for family members and friends birthdays in order to provide them a small role in being generous to other people and to show gratitude to friends and family.
Depending on age and artistic ability, the end result will vary. I know with my own children, they struggle at this stage with doing more than a small picture and writing their name. And although I know family and friends are grateful for anything they make, I still always felt like I had to add more so that the recipient would understand the reason we were sending the card. By adding additional wording or helping them decorate I felt like I was taking the project out of their hands a little.
I discovered the business, P.S. You're The Best just a few weeks ago and I couldn't help but think, "What a wonderful solution!" The kids love to color so they really enjoy coloring in the black & white cards. They find the joke that is included with each card hilarious, and there is still ample space for them to add their own pictures and signatures. My initial thought was that this would be perfect for birthdays and special occasions for family members but considering the state of the world today and our inability to visit friends and family… what a fantastic opportunity to reach out to loved ones "just because" and let them know we are thinking of them. Not only that, but the line of healthcare hero cards enabled us to begin a project of decorating cards for nurses working in COVID-19 units to be dispersed along with a food delivery coordinated by the Moms of the Western Suburbs Facebook group.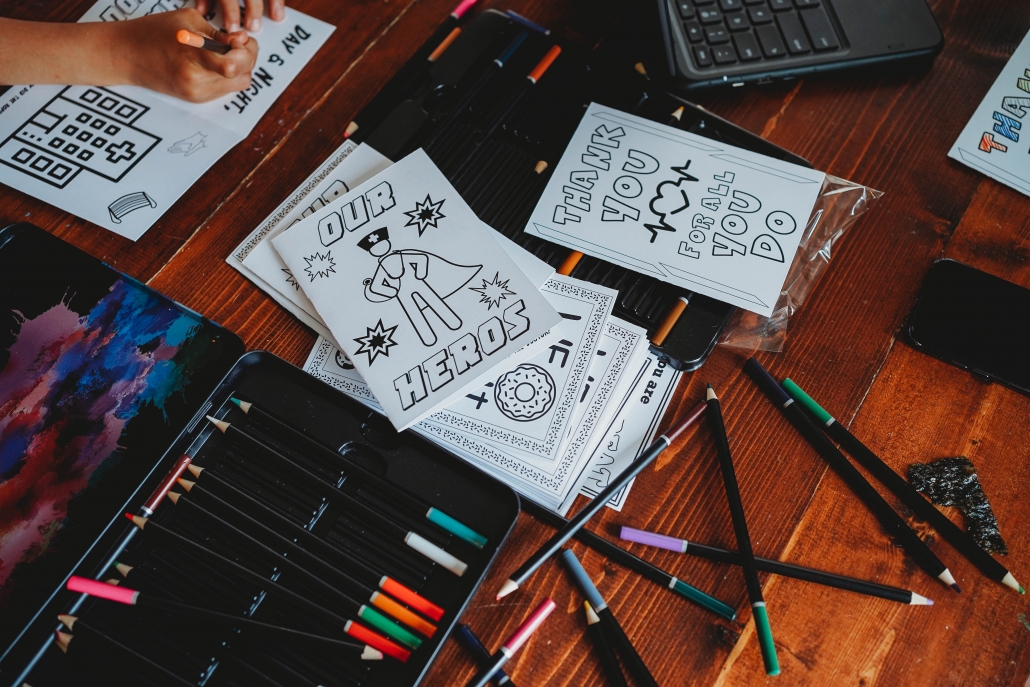 There are a few charity opportunities around that allow children to work alongside their parents for a good cause, but they aren't in great abundance. Or not feasible for everyone. Nowadays these opportunities will be even more slight unfortunately. But a project like the healthcare hero cards was the most perfect way for them to contribute to a good cause and to begin a conversation about why we are supporting healthcare workers and why we should be grateful for all of their hard work. I would encourage all families to have these conversations and purchase some cards to deliver to their local hospitals!
The owner of P.S. You're The Best, Amanda Hamblin was gracious enough to respond to some interview questions and let the WSWDTC family discover more about this local mom and her local business!
Q. So what is the WHY behind P.S. You're The Best and when did you launch?
A. "I have always wanted to start my own business. I have had many ideas over the past several years, but non of them really stuck with me. I started doing crafts and projects with my toddler and initially thought I would start documenting our days playing with play dough and making sun catchers. Then one day, about 9 months ago, I forgot to have my daughter make a birthday card for her grandma's birthday.  I was running around trying to find crayons, paper, stickers, envelopes and everything else to make this thoughtful handmade card. Then to top it off I didn't have any stamps to get it in the mail, and ideally it should have been in the mail yesterday. 
At the same time one of my best friends sent me a card in the mail. It wasn't a birthday card or a Christmas card. It was a just because card. My family and I had just moved away from home, and she must have known how much I was missing everyone. When I received that card in the mail it made me smile, cry, feel warm, appreciated, missed, thought of and noticed. It's crazy how a card can elicit so much emotion. To think she thought of me and took the time to get a card, sit down and write a long thoughtful note felt like getting a warm hug from my best friend. It was exactly what I needed. 
These two stories paired together made me realize sending mail isn't the easiest thing to do. It is so much easier to send a text, call, or leave a voicemail. That's when I thought, 'How can I make it easily accessible for kids and families to stay connected in a way that has been lost? A way that connects people on a different level and portrays something deeper than a text.' "


Q. I see that there is a monthly subscription service, how does it all work?
A.
"
PS You're the Best offers two different options! In both options kids get to connect to the special people in their life by creating something unique and sending it via snail mail." 
Monthly Subscription Box
Each month kids get a box packed full of Cards, Envelopes and Stamps to create and send to the special people in their life. The box also includes different activities the kids get to do and create. Each box has a monthly theme that goes with some of the fun silly days that are celebrated in the month.

It is a monthly service. You are charged each month for the next box. You can sign up for the subscription so it automatically gets renewed each month or choose to give it as a gift and just receive one month.
Card Packs
These are popular with grandparents and families that just want to send cards, but not subscribe to the whole box full of activities.

The card packs come with cards, envelopes and stamps so the cards can be sent out asap!

Card packs start with 5 cards and go up to infinity!
Q. Tell me a little about your background and your connection to Illinois.
A. "I am from Alton, IL, right across the river from St. Louis, MO. We moved to the burbs about 2 years ago, 3 weeks after my littlest was born. I am married to my main man! We will celebrate 11 years married in June. We have two little girls. EJ is my sweet, princess loving, ninja girl who is almost 4. Penny is my little play buddy and Frozen lovin almost 2 year old. I am a teacher who stopped teaching in the classroom when my first was born. Now I teach online in the mornings along side PS You're the Best."
Q. This is a question we ask all of our guests (Well, Congratulations! You are the first guest!) What are your favorite things to do with kids in the Chicagoland area?!
A. "We haven't lived in the Chicago area too long, but we do enjoy all the parks in the area. We are always trying to find a new Forest Preserve or someplace to go walking and hiking. In the summer you will find us at Cyprus Cove all day everyday! Colonial Cafe is our favorite place to grab dinner and we also really like walking around downtown Naperville when it is nice out."
Q. Last question, what is the main thing you would like to impart about your business?
A. "Handmade cards are more than just a simple note (though a simple note is always special). Handmade cards, especially when made by kids, reflect time, love, creativity and thoughtfulness. These are values that can't be taught, but experienced and shown through small acts of kindness. Now parents can rest well knowing that a box of cards, and all the supplies needed to create and mail, will be sent to their door step monthly.
Here is some food for thought, cards suit every occasion and can be gifted to anyone. "
https://whatshouldwedotodaychicago.com/wp-content/uploads/2020/05/DSC04432-scaled.jpg
1707
2560
Helen Bosacki
https://whatshouldwedotodaychicago.com/wp-content/uploads/2019/05/What-Should-we-do-today-Chicago-desktop_03.png
Helen Bosacki
2020-05-13 21:43:14
2020-05-13 21:43:14
P.S. You're The Best Kids Cards