Chicagoland Water Fun 2023
School is out and temperatures are on the rise! I think we are all curious about
what our water fun prospects are this summer. This guide contains an
updated list of resources to various types of family – friendly water fun!




Splash Pads
Water spray features are in the process of being turned on and should all be turned on by Friday, June 23rd!
Aurora (Fox Valley Park District) Splash Pads
Eola Community Center
Stuart Sports Complex
Martin Luther King Jr. Park
Blackhawk Park
McCarty Park

The splash pad is operational daily from Memorial Day to Labor Day, and runs from 11 am to 6 pm (times are adjusted seasonally)
"The Hub features a 6,000-square-foot spray ground with nine exciting water features. The spray ground will close if the temperature is below 65 degrees, lightning is spotted or there are other threatening weather conditions."

| | |
| --- | --- |
| Resident Youth (ages 2-16) | $4 |
| Resident Adult (ages 16+) | $6 |
| Non-Resident Youth (ages 2-16) | $6 |
| Non-Resident Adult (ages 16+) | $8 |

There are also miniature golf and batting cages!
This unique playground does not have a splash pad but a flowing stream and water feature. Plan on bringing a change of clothes for your child or water shoes if they will be playing in this area!
New admission fee of $2 for residents and $3 for non-residents for a one-hour play session. Admission fee applies to all children between the ages of 2 and 12, adults may enter at no cost.

Online reservations are not required but recommended and available for both residents and non-residents up to a half-hour before the start of any play session. Click here to make a reservation. You must have an active account established with Schaumburg Park District in order to make a reservation.
951 McHenry Rd.
"Buffalo Grove Park District Spray 'N Play, one of the largest facilities of its kind, features over 20 water toys, sprays and fountains, plus a picnic area. It's completely interactive and there is no limit to the fun that can be had at the Spray 'N Play. It's a great place for birthday parties, corporate parties, family reunions and special events. It's located in Mike Rylko Community Park near the Golf and Sports Center on Route 83."
Mon – Fri 10 -7
Sat & Sun 12:30 – 7

| | |
| --- | --- |
| 12 Months & under | Free |
| Children and Adults | $4 |
| Seniors (62 & Up) | $2 |
| Twilight Time (5:30 – 7 pm) | $2 |
Tuesday – Sunday 10 AM – 2 PM (FREE)

Dump Buckets

Water cannons to spray your friends

A Tot-Mister and Aqua Dome

Several ground geysers and water jets

2 Shade structures and benches
Des Plaines Prairie Lakes Aquatic Center
Indoors, open daily. Beautifully designed, big & bright, the Splash Pad is full of fun slides, sprays, and touch activated water activities.
* Splash Pad Closed on Tuesdays and Thursdays thru August 10, 10:30a–12:00p for DPPD Summer Camp
* Splash Pad and 4 Lap Pool Closed on Fridays July 7, July 21, and August 11, 1:00p–3:00p for DPPD Summer Camp
* Splash Pad Closed on Fridays June 30, July 14, and July 28, 10:00a–11:00a and 12:30p–2:30p for DPPD Summer Camp
Garfield Ave and Route 53
Splash pad is open from Memorial Day to Labor Day daily 11 AM – 7 PM
"Dragonfly Landing features a shelter with a living "green" roof and a free, fun splash pad with interactive water jets and giant, colorful flowers that mist water. Nature-themed play structures such as a tree house, leaping lily pads, and cat tail swingers inspire creativity, encourage exploration, provide conservation education opportunities, and are just plain fun!"
132 S Grove Ave, Elgin
"Beautiful riverside setting with unique playground and spray park – if it's summer, wear your swim suit."
"Splash pad fountain operates from 10 am to 8 pm most days, depending on the weather, during open season. Splash pad and washrooms are open for the season."
Fountain Square Park – Elk Grove:
Sprayground open June 1st through Labor Day
Mon – Fri: 12:30 pm – 7:00 pm
Sat – Sun: 10:30 am – 7:00 pm
Glenview Splash Pad at Little Bear Garden: 
NE corner of Patriot Blvd & Chestnut, Glenview
Lake Zurich Spray ground Paulus Park Beach:
Open 10 AM – 7 PM
Bath house open daily
Breezewald Beach is open to Lake Zurich residents ONLY. Paulus Park Beach is available for non-residents.
Children utilizing the Sprayground ONLY (no beach), may gain entrance with one paying adult per family.

| | Resident | Non-Resident |
| --- | --- | --- |
| 3 & under | Free | Free |
| Age 4 – 17 | $6 | $8 |
| Age 18 & over | $9 | $11 |
| Twilight Rate 5:30 pm and later | $3 | $5 |
"The Splash Park features 12 spray pieces including: water tower, team spray, water tunnel, aqua dome, and zero-depth pad. The 2022 season will run from May 28th to Labor Day."
Monday-Saturday: 10 a.m. to 6:30 p.m.
Sunday: 11 a.m. to 7 p.m.
Child Admission (ages 12 months to 14 years): $3
Children must be accompanied by an adult.
Adult Admission (ages 15+): $1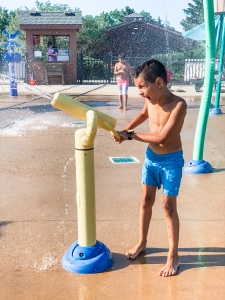 Millenium Park Crown Fountain: 
201 E. Randolph St., between Michigan Ave. and Columbus Ave.
"The fountain by Jaume Plensa consists of two 50-foot glass block towers at each end of a shallow reflecting pool. The towers project video images from a broad social spectrum of Chicago citizens, a reference to the traditional use of gargoyles in fountains, where faces of mythological beings were sculpted with open mouths to allow water, a symbol of life, to flow out."
Moore Park Spray Ground – Geneva:
The Sprayground is open June 4th – September 3rd
Monday – Thursday from 10:00 am – 7:00 pm
Friday – Sunday from 10:00 am – 6:00 pm
1401 N Midlothian Rd
Residents: Free
Non-residents: $5
Daily: 10 am – 5 pm (Two 30 min shutdowns at noon & 2:30)
Hours: Mon-Fri: 10am-8pm    I   Sat/Sun: 10am-3:30pm
Members: Free
Residents: $10
Non-Residents: $12
3615 Campton Hills Rd, St. Charles
Daily admission: 11AM – 7:30 PM.
Twilight Swim starts at 5:30 PM for $7 pp admission, walk ups only
Splash Park – RES $3/NR $5 (only applicable Aug 10-Sep 5 during non-Open Swim hours)
733 N Prospect Ave, Park Ridge
The Splash Pad features a large, pirate-themed water play area surrounded by beautiful Prospect Park.
Daily Hours: 10 AM – 5 PM
All Ages: $5 Resident / $8 Non-Resident
Prairie Point Splash Pad (Oswego):
4120 Plainfield Rd, Oswego
"With 17 spray and play features, this park is sure to be a busy place all summer long, offering a refreshing reprieve on hot days. The Splash Pad is free to use. Be sure to bring your towel!"
11:00 AM-7:30 PM
Margaret J. Lange Splash Pad: The Splash Pad is a zero-depth aquatic playground with a variety of water jets. A fun and wet way to cool off during the hot summer days!  Visitors must visit the front desk at Margaret J. Lange Park to obtain a wristband
Hours:

Monday-Friday: 10:00 am – 8:00 pm
Saturday: 11:00 am – 7:00 pm
Sunday: 1:00 pm – 5:00 pm

Fee:

Residents: Free
Non-residents: $7
Parents and non walking infants are free
4701 Oakton St, Skokie
"Take a leisurely dip in our 14,000 square foot main pool with beach entry, play in our fully accessible splash pad, take a ride down one of our three big slides or take the challenge and stand beneath the big red bucket and get drenched when 300 gallons of water come crashing down!"
Weekdays                          12:30–7 p.m.
Weekends                11 a.m.– 6  p.m.
| | | | |
| --- | --- | --- | --- |
| | Skokie Resident | Evanston Resident | Non-Resident |
| Public Swim* | $8 | $10 | $16 |
| Lap Swim | $4 | $7 | $7 |
South Ridge Park – Hoffman Estates
1450 Freeman Road
10 AM – 8 PM
FREE
An amazing splash pad & playground combo!
Newly built in 2018 so very clean and modern!
The playground also features a ninja warrior course!
There are bathrooms and some covered picnic tables.
Astro Turf instead of grass so be cautious as it can be very hot on the feet!
The splash pad and playground are right next to each other so children are able to run back and forth.
General Admission Rates
Resident Child:
$4
Non Resident Child:
$6
Adults 
Free

Hours: 9:30am – 6:00pm on weekdays & 9:30am – 4:00pm on weekends
Water Parks
Barefoot Bay Aquatic Center (Mundelein):
"Barefoot Bay is a six acre, family water retreat. The aquatic center offers amenities for swimmers of all ages. Please view Barefoot Bay's amenities below or follow the links to read more about the park."
Open: June 3rd–Aug 13th
Barefoot Bay hours

General public: 11 am – 7 pm

Youth: $13 resident/$19 nonresident
Adult: $13 resident/$19 nonresident
Senior (Ages 55+): $11 resident/$17 nonresident
No outside food or coolers are allowed.
Bensenville Water Park & Splash Pad
1100 West Wood Street
Water Park Hours: Tue-Su 12:00-7:00P
| | | |
| --- | --- | --- |
| Rate | Youth (ages 3-17) | Adult (Ages 18+) |
| Weekdays, Noon – 5 p.m. Tuesday-Thursday | $11 | $14 |
| Weekdays, After 5 p.m. Tuesday-Thursday | $7 | $7 |
| Weekends, Noon – 5 p.m. Friday-Sunday | $13 | $16 |
| Weekends, After 5 p.m. Friday-Sunday | $8 | $8 |
Centennial Park Aquatic Center (Orland Park):
15600 West Avenue, Orland Park
11 am – 7 pm M-Fri; 12 pm – 8 pm Sat/Sun
"Centennial Water Park is a fun and exciting family water park offering a zero-depth pool surrounded by plenty of deck and lawn for lounging and a water play feature for little ones. You'll enjoy using two body speed slides, 328-foot tube slide, 200-foot flume slide, platform cliff jump, and drop slide surrounded by the lazy river, which offers a relaxing ride around bends and under waterfalls."
Resident $12 |  $9 (after 4 pm)
Non-residents $25, $26 Fr-Sun / holidays
There are full day and half day passes!
A full day is open to close and a half day pass is 4 pm – close
Weekday pricing is cheaper than weekend pricing.
Check Groupon for deals
"Featuring two exciting 37 foot slides – some of the highest in the area, and a variety of fun spaces, Mystic Waters is filled with activities for all ages. After braving the big slides of Otter's Run, enjoy the daring drop slides and cliff dives in Sea Lion Falls. Need to relax? Mystic Waters offers the Crocodile Cove lazy river, with 550 feet of inner tube floating fun, and the expansive Dolphin Bay: a zero depth leisure pool where you can enjoy fountains, jet sprays and a child-size dolphin slide. For the youngest (and the young at heart), Beluga Beach is just right. It features water-spray stands on a non-slip surface with no free-standing water, making it an enjoyable introduction to water park fun for tots and other non-swimmers. Beluga Beach includes all kinds of splashtacular fun, with multiple water sprays and a very cool jungle gym."
Regular Season: June 3rd–August 13th:
Sunday–Thursday: 11:00a–8:00p
Friday and Saturday: 11:00a–9:00p

| | | |
| --- | --- | --- |
| Daily Admission | General Admission | Resident Admission |
| Adult | $19.00 | $15.00 |
| | | |

6$ cooler fee
828 Montgomery Road, Aurora
Admission:

Mon – Thurs: 10:30 – 5 PM
Fri – Sun: 12:30 – 6 PM
Weekday: $8(R) / $12(N); Weekend: $9(R) / $13(N); Children Under 2: Free

Outside food and beverage allowed
195 S. Barnes Rd., Aurora

Six-lane zero-depth pool with children's play features
Second-largest lazy river in Illinois, with 1,100 feet winding through dumping buckets, sprayers, jets and a bubbling rapids
One winding, enclosed tube/flume slide
One winding, open tube/flume slide
Enclosed kid-friendly area with spray guns, waterfall and other
interactive features for kids under 48 inches tall

Hours:

Mon – Thurs 12:30 – 7
Fri – Sun 10:30 – 5
Parent Tot Swim: 9:30 – 11:30 AM

Weekday: $8(R) / $12(N)
Weekend: $9(R) / $13(N)
Outside food & beverage allowed
"Come relax with a great view of the Mississippi River while enjoying fast-paced rides or relaxing and soaking up the sun. Featuring a wave pool, body flumes, tube rides, Itty Bitty Surf City for the little ones, and a wide variety of menu choices, Raging Rivers is the perfect place to spend your summer days!"
Hours: Mon – Fri 10 AM – 5 PM, Sat & Sun 10 AM – 6 PM
Hours: 10 AM – 6 PM
"With 32 waterslides, a 1/4 mile lazy river, a HUGE wave pool, and 3 gigantic kiddie areas, Illinois' Largest waterpark sits on 58 acres just 45 minutes away from Chicago."
"Hurricane Harbor Chicago, the 20-acre water park on Six Flags Great America property, is located between Chicago and Milwaukee and offers fun in the summer sun for the entire family with 25 splash-filled attractions, including the world's tallest water coaster, thrilling water slides and kids' splash pads. If your family is looking for things to do in or around Chicago, IL you've come to the right place. With towering exciting water slides, relaxing lazy river and wave pool, and splash parks for the kids, Hurricane Harbor Chicago has something for everyone!"
Hours: 11 AM – 6 PM
505 N. Springinsguth Rd
This indoor water park is located inside the Community Recreation Center
Hours

Mon.-Fri.: 11 a.m. – 5 p.m.
Sat. & Sun.: 12 p.m. – 5:00 p.m.

Residents: $8 per person
Non-Residents: $12 per person
Children 2 and younger are free
White Water Canyon Water Park (Tinley Park):
8221 W 171st St,Tinley Park
June 3rd – August  13th:  12:00 pm to 8:00 pm / Members only may enter at 11:30 am
Residents of the Tinley Park-Park District: $10 ($5 after 5:00 p.m.) – ($5 after 4:00 p.m. starting August 16th)
Non-resident: $20 all day
"White Water Canyon Water Park is 5 acres of swimming, splashing, sliding, water fun for the whole family!  The main pool features a zero-depth entry with an interactive children's play area, a 1-meter diving board, and a 3-meter drop slide. Our continuously flowing lazy river is your place to relax in a single or double inner tube as you gently float around the 600-foot river. It will be your choice to take the adventure channel with splash buckets or main on the relaxing path of this winding waterway.The Spray Ground is full of interactive fountains, water cannons, arches that spray, flowers that squirt, and buckets that dump."
Beaches / Rec. Lakes
Batavia Park District Quarry Park
May 27th – August 13th

Operating Hours:

Daily: Opens for season pass holders at 11:30 am

Mondays, Wednesday and Fridays: 12:00-7:00 pm

Sundays, Tuesdays, Thursdays and Saturdays: 12:00-6:00 pm

Twilight hours on Mondays, Wednesdays and Fridays: 5:00-7:00 pm

Daily Admission:

Resident: $10; Nonresident: $15

Twilight resident: $5; Twilight nonresident: $7

Check Groupon for deals!
Centennial Beach (Naperville):
Memberships are available for purchase by both residents and nonresidents.
"Centennial Beach is an historic quarry that holds 6.2 million gallons of water that starts with zero depth and goes as deep as 15 feet. Amenities include a historic bathhouse, Centennial Grill, picnic areas, sand play area, water features, slide, diving boards, sand volleyball, bag toss, and grass areas with adirondack chairs."
Hours: Mon – Fri 11:30 AM – 8 PM; Sat: 11 AM – 8 PM; Sun: 11 AM – 6 PM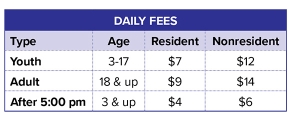 Mundelein
1016 Diamond Lake Rd.
Hours:
Daily 12-5 pm
Daily Admission:
 $5 resident/$10 nonresident
"Diamond Lake Recreation Beach is located on 100 acres. It includes a natural lake, sand beach, grassy areas, and a shaded picnic grove.  Diamond Lake Beach is a recreational destination for swimming, boating, boat and shelter rentals, special events, and more. Enjoy Diamond Lake Beach's sandy shoreline, great swimming, kids' playground on the sand, shaded picnic areas, and more. Kayaks and stand-up paddleboards are available for rent for an enjoyable excursion on the water."
5 of Evanston's beaches are open for public swimming
Beaches will be free to Evanston residents and discounted for Skokie residents.
Physical daily passes are not available at recreation centers.
Daily passes can be purchased in person at the following facilities during office hours during the beach season.

Dempster Street Beach Office, 1251 Lake Shore Bld.
Clark Street Beach Office, 1811 Sheridan Rd.

Non-Resident (Digital) Daily Beach Passes can be purchased on the Viply app
55 Hazel Ave, Glencoe
"Right in your own backyard is Lake Michigan's most beautiful spot on the North Shore, Glencoe Beach. The beach is ideal for group and family outings, work picnics, or summer camp groups! Lifeguards are on duty daily during beach season."
Regular Season June 10th – September 4th: 10 AM – 7 PM
Daily admission may be purchased after 12 PM on weekdays at the beach.
The Paul & Ada Safran Sprayground water is on 10 AM-6 PM

| | |
| --- | --- |
| 2023 Daily Admission Fees | Fee |
| Under Age 2 | Free |
| Resident | $10 |
| Non-resident | $20 |
The Beach at Hi-Tide Campground (Leland)
Leland, IL
Younger kids will enjoy the smooth sandy beach and shallow area of the lake, while the older kids enjoy large water toys that will keep them entertained all day long!
Purchase a daily pass or book a camping spot for the night / weekend!
Illinois Beach State Park (Zion)
"

Illinois Beach State Park is located along the shores of Lake Michigan from Waukegan to the Wisconsin state line. The park offers a campground, full service resort, camp store, picnic areas, hiking and biking trails and a visitors center open intermittently throughout the year. There is swimming along the six miles of beaches.

"
The newly renovated Illinois Beach Resort and Conference Center is back open for your lodging and beach stay!
Lake Zurich: Paulus Park and Breezewald Park Beach
Paulus Park Beach: Noon – 7 PM
Paulus Park Sprayground: 10 AM – 7 PM
Paulus Park Wibits: Not available this season
Breezewald Park Beach: Noon – 7
Admission Rates:
| | Resident | Non-Resident |
| --- | --- | --- |
| 3 & under | Free | Free |
| Age 4+ | $9 | $11 |
| Senior 62+ | $6 | $8 |
| Twilight Rate 5:30 pm and later | $4 | $6 |
"Celebrated around the world for its beautiful sweep of shoreline and backdrop of rolling dunes, this is the main beach (out of 6!) in town and the most happening place to soak in the sun."

Parking: $10/day, $50/season. (9 AM – 8 PM)




Or ride the chain ferry or Interurban bus for $1.




Free from Labor Day to Memorial Day.

A short 2.5 hr drive from Chicago!
Riviera Beach (Lake Geneva, WI)
The City of Lake Geneva is offering three ways to purchase beach passes. Cash using $10 bills only or Debit/Credit Card at the 3 beach Kiosks. Avoid long lines by downloading the VIPLY app to your smartphone.
"Rosewood features a nature cove for ecological and nature programs, guarded swimming beach, and a recreation beach. Nestled against Rosewood's wooded bluffs is a one-of-a-kind beachfront Interpretive Center and amenity buildings including concessions, restrooms, and guard buildings connected by a boardwalk that runs the length of Rosewood Beach."
Hours: 10am-6pm Daily
Non-resident Season Pass –  $100 (head of household) $25 (each additional household member)
Non-resident Daily Pass – $10 per person
Silver Lake Beach (Kenosha, WI)
Clear water and just a hop over the border!

| | |
| --- | --- |
| Resident | $10.00 per vehicle |
| Non-resident | $20.00 per vehicle |

The beach will be open through Labor Day, 7 a.m. to 10 p.m. daily.
Three Oaks Recreation Area (Crystal Lake)
The beach, splash pad and playground will be open daily from 10:00 a.m. to 7:30 p.m.
Located in the Lake House complex, the splash pad is a special treat for toddlers and younger children, with ground-based water jets that spray into the open air while buckets of water are poured overhead
The use of flotation devices such as rafts, noodles, lounges, water wings, etc. are not permitted. Only life jackets approved by the Coast Guard are allowed. Life jackets are available for use at the Lake House Complex for no additional charge.

 Non-Resident Admission
 Non-Resident Admission After 4:00 PM
 Adults (16 and Older)
 $10.00
 Adults (16 and Older)
 $5.00
 Seniors (62 and Older)
 $6.00
 Seniors (62 and Older)
 $3.00
 Youth (4-15 Years)
 $6.00
 Youth (4-15 Years)
 $3.00
 Ages 3 and Under
 Free
 Ages 3 and Under
 Free

Make sure to check out the wakeboard park as well!
Washington Park Beach (Michigan City, IN)
"This 140-acre park has 2 miles of pristine beach, the Washington Park Zoo, the Michigan City Senior Center, a restaurant, concessions, the Oasis Splash Park, public art, amphitheater, a marina, public fishing, and more!
Open daily, 5 AM – 10 PM
Admission is $15 per vehicle per day
Happy Swimming!
https://whatshouldwedotodaychicago.com/wp-content/uploads/2020/07/img_8764.png
1360
2048
Helen Bosacki
https://whatshouldwedotodaychicago.com/wp-content/uploads/2019/05/What-Should-we-do-today-Chicago-desktop_03.png
Helen Bosacki
2023-07-17 06:05:54
2023-07-17 06:06:00
Chicagoland Water Fun 2023