Halloween & Fall Fun in Chicagoland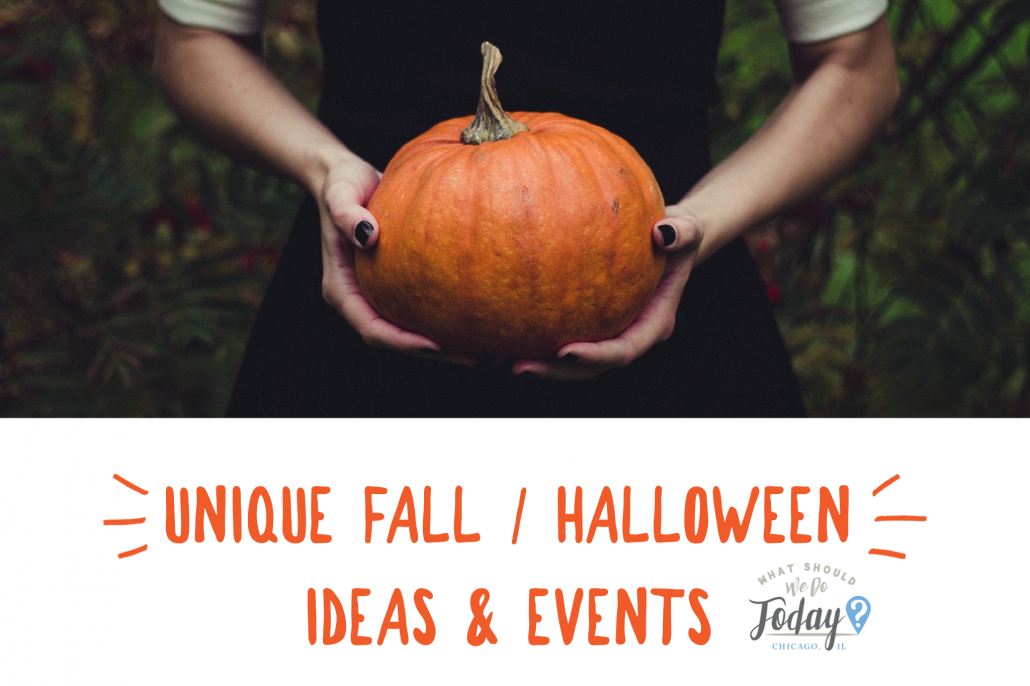 There is still plenty of time to explore the nearby apple orchards and pumpkin patches. Those are usually the first two categories we think of when we talk about the onset of fall in the midwest. And of course, Halloween!
But, here are some other ideas, to explore this October!
No need to drive up the East Coast, enjoy the changing of the leaves in your own state by biking, walking, or driving through the below locations!
Pumpkin Spice Lattes may be all the rage, but a trip to the city for a fall dessert at one of these amazing bakeries is more my speed!
Are all the registration required Halloween events filled? Don't fret! Check out these other Halloween ideas!
Cantigny Fall Festival

Saturday, October 9th from 10 – 4 PM
Festival admission and entertainment are free with paid parking ($5 per car). Some activities require a small fee, such as pumpkin decorating, hayrides, and the petting zoo (CASH ONLY, PLEASE.)

Fall at Lincoln Park Zoo

"Dive into the wonderful world of autumn, from picking the perfect pumpkin to sipping festive drinks, with Lincoln Park Zoo's annual Fall Fest. This free, family-friendly celebration is full of harvest days fun this October. Fest guests can enjoy a pumpkin walk, live pumpkin carvers, a festive pop-up bar, animal chats, musical entertainment and more!"
Fridays – Sundays October 8th – 31st. Monday, October 11th: 10 – 5

Fright Fest

"Thrills by day, frights by night!"
September 18th – October 31st
Check the website for exact hours
Guests can also purchase haunted house wristbands. A haunted house wristband grants entry to all six haunted houses, including the all-new Condemned and Bloodshed. Wristbands can be purchased online or at various retail locations throughout the park.
NOTE Masks are required in indoor locations including haunted houses.

Jack O'Lantern World

Lake Zurich
"This October gather your friends and family and take a journey through the "Jack O' Lantern World" experience. Walk a 3/4 mile long trail through 1000's of Jack O'Lanterns hand carved by local artisans. Experience our one of a kind whimsical celebration of art, nature & fall."

Select Dates, October 1st – 31st, 2021: Paulus Park, Lake Zurich

Cottages in the Woods

528 East Side Dr, Geneva
Sat & Sun, October 16th & 17th from 10 – 4
"Cottages in the Woods is a unique fall event held in the historic Good Templar Park of Geneva, IL. Our Swedish stugas (cottages) will be open for visitors to see, each offering a variety of delightful wares from talented artists and craftspeople. Three food trucks, musicians, and wandering fairies will be under the canopies of our great oak trees. Enjoy autumns splendor while nibbling on a treat from our bakery. This family friendly occasion is a charming event for all ages."

Family Fall Fest

Elmhurst
Saturday, October 16th, 9AM – 12 PM
"Get your costumes ready and bring the family to The Depot at Wild Meadows Trace from 9 a.m.-Noon for Safety Town trick-or-treating plus fall festivities!

Fun will include an inflatable corn maze, carnival games, inflatable ogre maze, balloon twisters, air brush artist and food trucks.

Food trucks include Chesa's Gluten Free, Windy City Ice Cream, Mario's Cart, Sugar Mama's Mini Donuts and Da Pizza Dude."

Haunted Forest Westmont

October 16th
"Sandra Smith Woods will come alive for one very magical, mystical night! Participants will hop on a wagon ride that takes them from Diane Main Park through the terrifying woods path scenes. After that, participants will get off the wagons and walk through the wicked woods where all kind of scares await them. Don't turn your back, as characters, ghouls and creatures will come alive before your very eyes!
For our younger viewers it is recommended you attend our "Merry Monster Showing" from 5:00-6:30pm."

A Nightmare at West Main

Batavia

Friday, October 15, and Friday, October 22; 7:00 pm – 9:00 pm both days, West Main Community Park
"The ghosts are coming out to play in the forest at West Main Community Park. Join us for a haunted hike through our spooky trails. Evil lurks in the forest, so enter if you dare! This event is not suitable for kids younger than 10 years old. Advance tickets can be purchased through October 14 for $8 per ticket. Admission is $10 day-of."

Mr. Dave Music Halloween Shows

Fitzgerald's: October 16th at 11 AM
Boopalooza: October 23rd at 10 AM
Bar Siena: October 26th at 10:30 AM

Bubbles Academy

Friday, October 22nd

Halloween Snapshots with TK Photography

Bubbleween

Sunday, October 31st at 11 AM – 12 PM, OR, 12 PM – 1 PM
"Each time slot will feature live music, trick-or-treat bag decorating, open play and family snapshots by TK Photography! After you have some Halloween fun with us, stop by other participating retailers at 900 N. Michigan for trick-or-treating! Advance registration required. Up to 2 adults may accompany each registered child. Masks required for ages 2+ regardless of vaccination status. Parking is validated with a $10 retail purchase at Bubbles Academy, Aster Hall, or any other retailer at 900 N. Michigan."

Ghost Stories at Smith Woods

October 22nd at 5:45 PM
"Legend has it that on certain nights in Smith Woods you can see the ghosts of years past wondering through the trees looking for their final resting places. For those who like a good scare and think they are brave enough, we are going to have a fire pit, tell scary ghost stories, and enjoy some snacks."

Fall Festival at the Promenade (Bolingbrook)

October 22nd – 24th
Artisans, crafts, fall food, live music, and appearances by Jack & Sally Skellington!
Vendor trick or treating on the 24th only from 2 – 4 PM

Caravan to Candyland

St. Charles
Wednesday, October 27th 5 – 7:30 PM
Advance registration required
"Enter James O. Breen Community Park at the Campton Hills Road entrance and follow the Halloween-themed path for a unique trick-or-treating experience! Along the way, from the safety of your own vehicle, stop at candy/prize stations during this spirited and lively event. All items will be individually wrapped for safety. Characters will use latex gloves for distribution. Candy may be made on equipment that also processes peanuts, nuts and wheat. If a child needs a non-peanut candy option, please tell a staff member wearing an orange vest at the entrance."

Little Goat Diner

Little Goat is my favorite restaurant and they have a ton of Halloween fun planned!

Thursday, October 21st at 5 PM: Spooky Cookie & Cupcake Decorating Class
Tuesday, October 26th at 5 PM: Pumpkin Carving at Little Goat
Friday, October 29th at 5 PM: Kids Halloween Costume Party

Night at the Museum: Halloween Party

Dupage County Historical Museum
October 22nd at 6 PM
"Come dressed in your Halloween costume and enjoy a three-floor flashlight scavenger hunt, the movie "Halloweentown" and crafts. $10 per person."

Roselle Fall Fun Fest

Saturday, October 23rd
Clauss Maintenance Barn
With the crisp autumn air and colorful leaves upon us let's celebrate the wonderful season of fall! Join us for the Roselle Park District's very own Fall Fun Fest! Bring the whole family for music, food, hayrides, inflatable corn maze, pumpkin decorating and much more!

Roselle Halloween Spooktacular

Friday October 29th at 6 PM
Ages 2-6
Join the Roselle Park District for a night of spooky Halloween fun! Children are encouraged to arrive in costume and will participate in crafts, pumpkin decorating, games and more!
Registration Deadline: October 25, 2021

Campfire Horrors at Northerly Island Park (& other parks)

October 15th: Scream
October 16th: Nightmare Before Christmas (North Park Village Nature Center)
October 22nd: Little Shop of Horrors
October 23rd: Scoob! (Sherman Park)
October 29th: Beetlejuice

Chitown Movies Halloween Drive In

Check out the calendar for some awesome Halloween options throughout the month!

Highway of Horror

Downtown Chicago
"Our haunt is set in a derelict lot in the shadows of the skyscrapers of Chicago's iconic Loop and nestled against highway 90/94 where many a horrible incident occurred not long ago. You'll first settle in with a drive in movie experience that sets the narrative. Dozens of the undead, demons, zombies and more jump out at and rock your car accompanied by sound effects and sprays of blood. At our drive-in haunted house, you are confined to your car for 90 minutes, so you can't escape the horror until the end. Can you beat the fear coming at you from all directions?"
Open 6pm til 10pm, Thursday – Sunday, October 14th – November 1st.

Galewood's Not So Spooky Halloween Parade

October 23rd beginning at 2 PM
"Calling all ghouls, ghosts and goblins! Galewood Neighbors is partnering with Happy Kids Chicago and Trinity Galewood Church to bring all the tricks and treats you can eat!
Join Minnie, Mickey and others on Saturday, October 23rd at 2:00pm along the parade route starting at Sayre Language Academy. We will end at Trinity Galewood Church with an outdoor Fall Fest from 3:00-4:00pm sure to please all ages young and old."

Halloween Book Club with Connections Academics

October 30th at 11 AM
Time Out Market Chicago
"Join us for a Halloween Book Club & Storytime with Connections Academics. Stories will be read by Anna Tewell who is a former teacher and the current Director of Connections Chicago. This Halloween Book Club will be filled with fun and engaging stories about the best parts of spooky season. Kids are encouraged to celebrate the holiday by wearing their costumes!"

Storozhuk Family Light Show

860 Woodhollow Lane
October 16th – October 31st
More details to come soon!

St. Charles Gallery of Ghoulish Homes

Best viewed at dusk October 15th – 31st
Drive or walk by some of the spookiest houses in St. Charles!

Mack Manor Drive Through Display

1066 Algonquin Road, Fox River Grove

Opening day, October 9th 6 – 9:30

WE PLAN ON BEING OPEN DAILY through October 30, weather permitting (This includes closing due to rain/wind). ****Closed Halloween*****

PLANNED HOURS: SUBJECT TO CHANGE – Daily hours posted every MORNING!

Monday – Thursday 6-9pm,
Friday & Saturday, 6-10pm,
Sunday 5-8:30pm.

Keep windows rolled up and no one hanging out of sunroofs
Radio station 106.9 FM
No charge but accepting donations

The Cote's Haunted Yard

6907 Townsend Blvd, Plainfield, IL
Here are the dates and times we are trying to be open. Weather permitting of course. Our hours are 6:30-9:30pm.
October 8 and 9th, 15th and 16th, 22nd, 29th and 30th. We are closed on October 23rd for private event. And we will be closed on Halloween

Midnight on Morton

Batavia
"Come to our spooky Halloween display! We have skeletons and ghosts animatronics. Kid friendly with some adult humor! Most of my items are made from 75% recycled materials."
Hours typically from 7 – 9. Check their FB page for updates and weather cancellations

Achter Acres

Yard Haunt. 5901 Liberty Sq, Oak Forest, IL
Halloween 9/1 to 10/31
Hours: Sun-Thur Dusk till 9:00 (No actor's/fog)
Fri-Sat Dusk till 10:30 (Actors, fog and flaming pumpkins likely!)

Death on Dobson

Geneva
An entire corner lot + of Halloween scenes perfect for all ages. Pirates, mermaids, spiders, sabertooth, devil's, clowns, and more. Halloween night some characters come alive and you can walk through!"

Oak Forest's Haunted Garage

5936 Condado Drive, Oak Forest
October 23rd & 30th; 7 – 10 PM
"Walk through the chilling Haunted Garage where live actors will frighten you the whole way! Free to enter. Donations are appreciated. Ran by local teens doing great things in our community! Come out and support while getting into the Halloween spirit!"
Did I miss anything? Comment with a unique fall activity you have enjoyed so far!
https://whatshouldwedotodaychicago.com/wp-content/uploads/2020/10/IMG_1320.png
1365
2048
Helen Bosacki
https://whatshouldwedotodaychicago.com/wp-content/uploads/2019/05/What-Should-we-do-today-Chicago-desktop_03.png
Helen Bosacki
2021-10-07 23:18:40
2021-10-17 05:38:20
Halloween & Fall Fun in Chicagoland