A 2022 Locally Sourced Easter in Chicago
Easter is coming up! And no, I am NOT ready.
Here are some amazing goodies from local businesses that I scored for the
kiddos Easter baskets! Many of these ideas are still available
for you to rush out and last minute add to your basket!
Easter Basket Stuffers
Don't miss out on spring themed sensory fun for your little one!
Cool it on the candy and stick an awesome tee in that basket!
You can also use the code HELEN20 or BUNNY for a discount!
Easter basket ideas?

They have 3 awesome books you can order: Women in Science, Women in Sports, and Women in Art
There are also lots of pastel colored shirts perfect for Easter, spring, and Earth Day. They have encouraging words and powerful women to emulate. Not to mention the softest clothing around! What's better than that?
What kid doesn't love bath bombs?! The special themed boxes for the holidays are always fun because they come with so many bath bombs! Perfect for me to split amongst all 4 kids. The spring themed box is absolutely perfect for the kids Easter baskets!
But we also are so excited for the Celebrate Earth Box which is all about sunflowers! (Ukraine's National Flower)

Your box will include:

sunflower seeds,
a sunflower journal to record the growth
5 fizzies with flower surprises inside
a water toy and bubble popper!
The coral reef box is also an amazing choice to celebrate Earth Day!
We love making bath time magical with pure and safe ingredients that smell great and soften the skin!
You know we love our "Paint and Eat" cookies! So of course we had to order Easter / spring themed ones from Rebecca!
She has an amazing storefront in Bartlett now for all of our dessert needs!
You can never have enough crayons, so you might as well make them cute!
Name crayons, initials with a cute shape, or just cute shapes like bunnies and Easter eggs!
Although perfect for Easter baskets, the rainbow colored Midwest and Windy City tees are a must have for spring and summer!
Kids will love it just as much as parents and who doesn't love a good matching outfit for the fam?
Another great surprise for the girls Easter baskets.
They are a huge fan of the fun bows and these are so adorable for Easter.
How cute is this?! Message her Facebook page and see what she's got left in stock!
THIS is the Instagram account to follow! I love all of her sensory bin ideas and adventures with her kiddo! (Plus I love that we both have toddlers with the initials OG!)
Her resin letters / numbers are gorgeous and perfect for Montessori play. Last year her lovely sister (@momschoolpsych) made these awesome monogrammed cases perfect to hold them for their Easter baskets.
May be too late to order these for Easter but that shouldn't stop you from just ordering in general!
The CUTEST toy store in the city!
Luckily my 2 yr old doesn't remember shopping for his own Easter basket gifts! Not only are the toys here adorable, but the book selection is FANTASTIC! Everything you need to create a perfectly diverse home library.
The inclusive guided journals, notebooks, encouragement cards, and gifts would be an excellent addition to a childs Easter Basket or for any time of year!
Encourage a love for writing and social emotional learning with these products!
How cute are these spring earrings?! Perfect for a daughter with pierced ears or a gift for mom!
Easter / Spring Treats!
Stan's Donuts and Coffee Chicago
Multiple locations around Chicagoland
I hope they bring back the Peeps donuts this year!
Easter decorated shortbread cookies, cupcakes, and cookie decorating kits are available to order on the website beginning April 2nd!
Chicago
Naperville
Peep Show Hot Chocolate
Peeps N Cream Shake
JoJo's outdoor Candyland ends 4/24! Make sure to reserve a table ASAP
Chicago
Did you know the world's 1st marshmallow cafe is in Chicago?
We visited this adorable cafe last year and enjoyed their latest spring flavors!
My son got the frozen lemonade topped with marshmallow, jelly beans, and peeps!
I got the Frozen Key Lime Pie! Yum!
Their current location in Rogers Park closes March 30th and they will be moving to Lincoln Park after a short hiatus to stay tuned!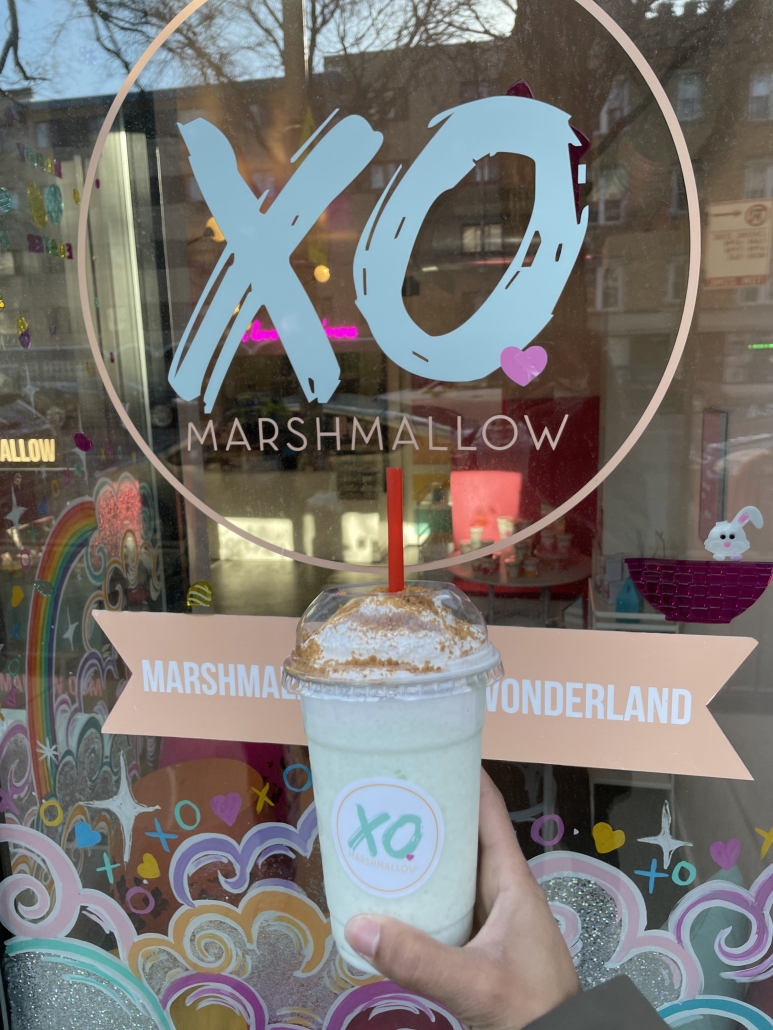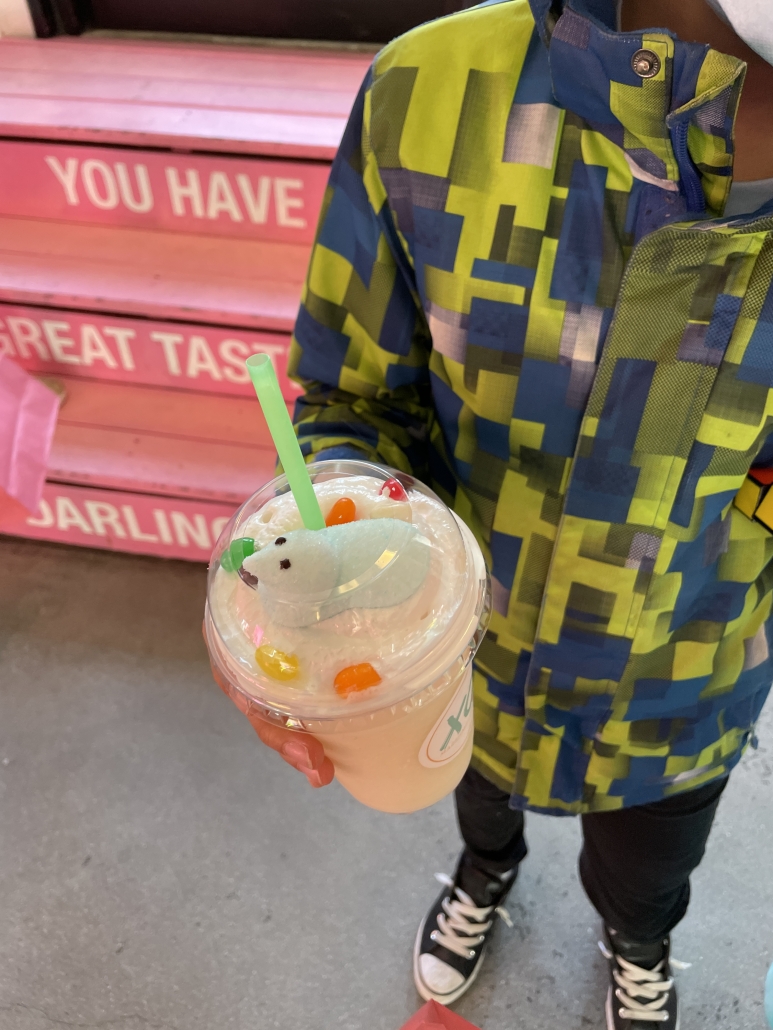 Chicago
They always have adorable treats around the cafe for treats and basket stuffers!
Adorable spring themed cakes, basket fillers, DIY kits, sugar cookies, macarons, and more!
Use code SPRING22 for online Easter orders!
Oak Lawn
This ice cream shop is just the cutest! Their fun creations are to die for and the kids and I all tried something different!
I got a giant banana split encased in an Easter egg, the girls got the Cadbury Creme shake, and the boys got vanilla soft serve ice cream with gummy butterflies, easter sprinkles, and strawberry syrup.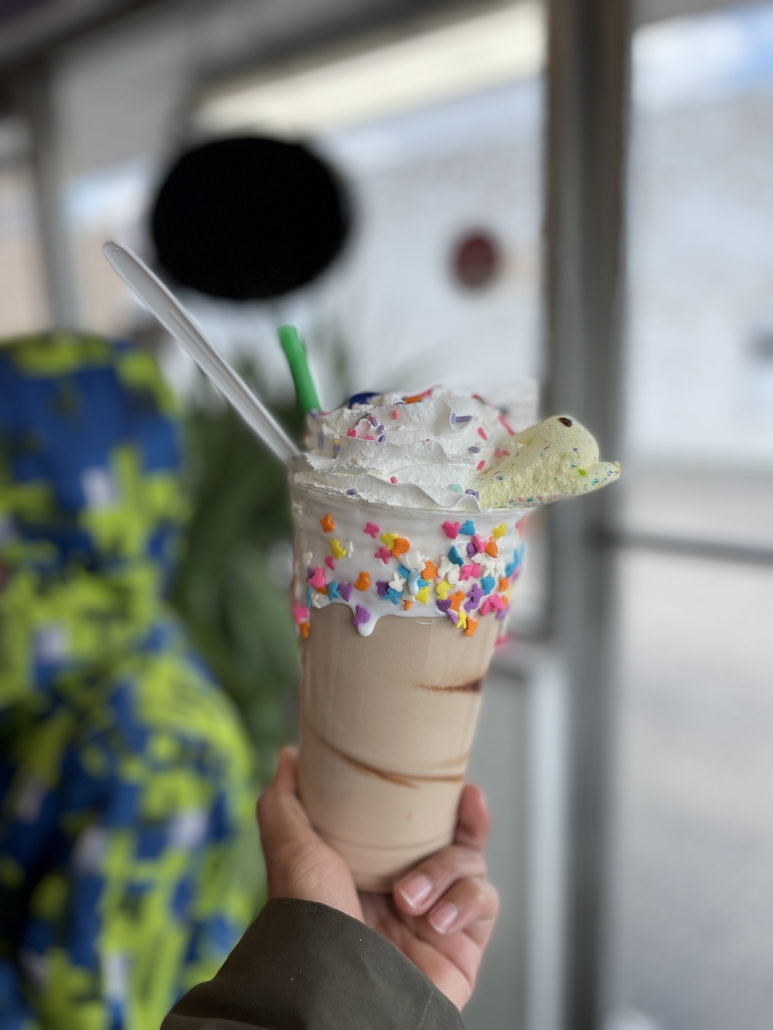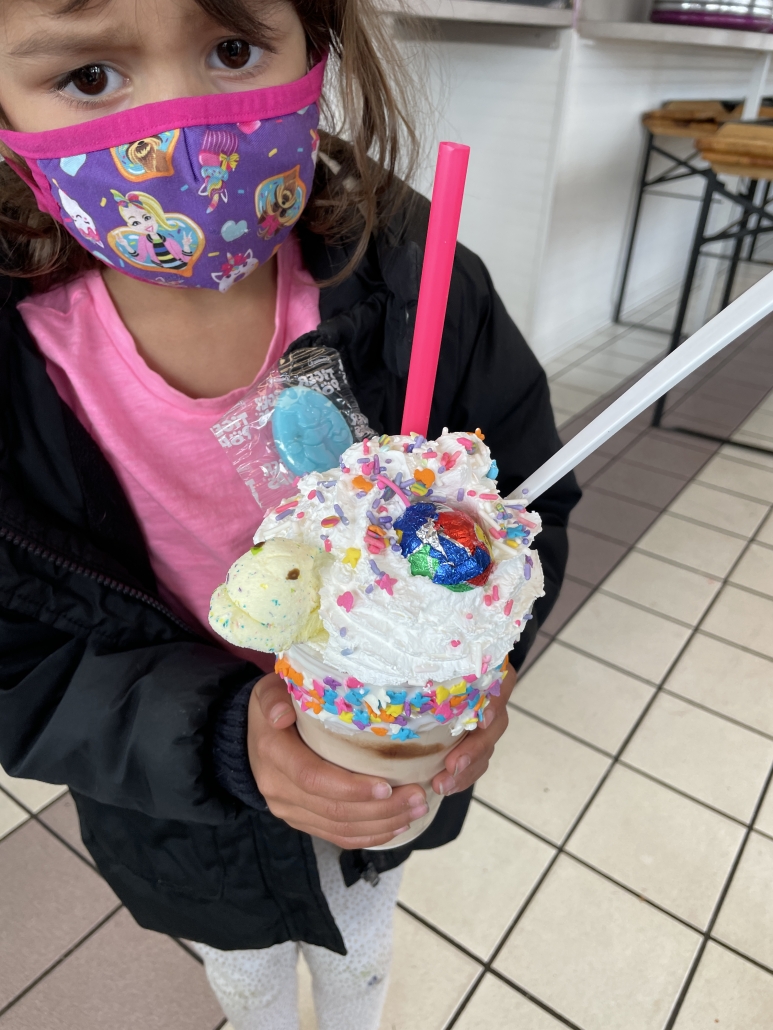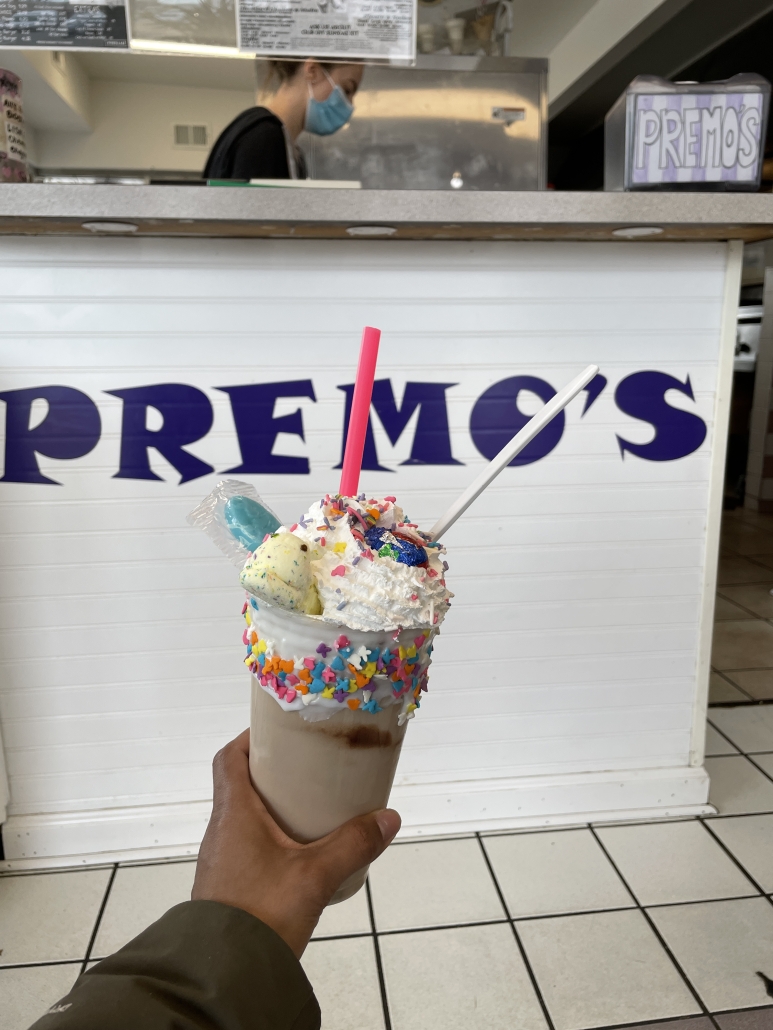 Easer / spring cutouts sure to please the whole family!
Not to mention, all sorts of other sweets perfect to pass around the table.
Easter ordering of these adorable cookies is now LIVE!
What's available, you may be asking?

Paint Your Own Cookies & Easter Egg Kits

Giant Egg Tic Tac Toe Set (fun for easter basket) & Bunny Faces on a Stick

Mini Bunny Bait Pouches

Personalized Cookies (ideal for Easter Basket)

DIY Cookie Kits

6″ Cookie Cakes

Adorable Floral Peeps and other sets

When is Pick Up you may be wondering? All items will be ready for pick up Thursday, 4/14 (4-7pm); or Friday, 4/15 (10am-1pm or 4-7pm). Some of our DIY items are available for pickup earlier in the week in Yorkville
My go to meal planning service in Carol Stream always has a delicious menu of frozen / refrigerated meals to make #momlife a whole lot easier!
Not only does she have your day to day covered but the Easter brunch menu has you covered from savory to sweet with four entrees to choose from and two sides.
Plus an adorable cupcake decorating kit to make your day extra special.
Geneva
The floral decorations inside always remind me of spring no matter what season it is!
Easter / Spring Events
April 9th at 11 AM
Naperville, Grand Pavilion Riverwalk
"Getting to throw handful of brightly colored powder at friends and foes seems too good to be true. Yes it's true! Vedic Cultural Society invites all members of the public, from people with understanding of festival to ne'er-do-wells who simply get a kick out of chucking organic dyed flour at strangers to celebrate the festival of color. Throw your worries to the wind."
Easter isn't the only spring holiday! Holi is an important spring festival for Hindus to celebrate spring, friendship, family, and the victory of good over evil.
Geneva
April 2, 3, 9, 10, 16th
"Visit the baby barnyard gang, say Hello to the Easter Bunny (please bring your own camera for photo opportunity), take a ride on the Springtime Choo-Choo Egg-spress Train and stay a while at the crafty corner. Afterwards, enjoy the local artisan craft market. Visit anytime, 10am-4pm. Tickets required for all guests ages one and older."
Chicago
Bunny Brunch on April 10th with the Easter Bunny!
Geneva
Mommy & Me Spring Bunny Windsock Workshop

April 14th at 10 AM
"Come create a Spring Bunny Windsock! Your little artist will take home their personalized art to display! This workshop also includes a delicious chocolate bunny from Graham's Chocolates."

Pictures With The Easter Bunny

April 16th at 10:30
"Join us for an egg coloring workshop and professional pictures with the Easter bunny! Eggs and coloring materials will be provided, and your complimentary, digital photos will be shared with you via email following the event. We'll also be raffling off a Nintendo Switch and $20 gift cards to local businesses."
Breakfast with the Bunny at Brookfield Zoo
April 9, 10, and 16th
All tickets are General Admission and include parking
Easter Egg-Stravaganza at Lincoln Park Zoo
Lincoln Park Zoo
April 16th
SCHEDULE OF EVENTS

8 a.m.–12 p.m. | Meet the Easter bunny, enjoy outdoor activities plus games and music
8 a.m.–12 p.m. | Free carousel and train rides (weather permitting)
8:30, 9:30, 10:30 and 11:30 a.m. | Egg hunts (Note: Egg hunt times are assigned and will be selected during checkout.)
Aqua Egg Hunt at Oak Brook Park District Family Aquatics Center
Oak Brook
April 14th & 15th
"Join us for an Aquatic Egg Hunt at the Family Aquatic Center! Each registration is for a 90-minute experience that begins with the egg hunts and ends with open swim for the entire family.  We have changed our format to help spread out the crowds. This year we will be offering 5 separate egg hunt events with a maximum enrollment of 100 egg hunters to help spread out the gathering of people. Each event will have registration opportunities for all ages. Please note the day and time that you are registering for!"
Parents accompany children for free.
As of this posting there are still time slots available for this unique hunt but they are filling fast!
April 16th at 10 AM

Downtown Batavia's Annual Egg Hop will return on Saturday, April 16. Check out the schedule of activities below!

10am-12pm – Egg Hop around Downtown Businesses

Peg Bond Center:

10am-1pm Business Booths.

10am-12pm Petting Zoo with Kates Kritters Mobile Petting Zoo

10:15am – 3 and under Egg Hunt

10:30am – Spring Stories with the Batavia Public Library

11:00am – Learn the Bunny Hop with Batavia Academy of Dance

11:30am – Easter Show with River City Church

12:30 – Raffle Drawings
Berwyn Park District and Great Easter Parade
Pre-registration is required, give them a call (708)749-4900 and reserve your spot for the hunt.
The Easter Bunny will be riding in a float down 16th Street from Jefferson Field to Prairie Oak Gym where he will join the Easter Eggstravaganza. (Begins at 10:30, immediately following the hunt.)
https://whatshouldwedotodaychicago.com/wp-content/uploads/2021/03/IMG_4143.png
2048
2048
Helen Bosacki
https://whatshouldwedotodaychicago.com/wp-content/uploads/2019/05/What-Should-we-do-today-Chicago-desktop_03.png
Helen Bosacki
2022-03-31 14:00:54
2022-03-31 14:59:36
A 2022 Locally Sourced Easter in Chicago