The season is upon us! Apple picking, pumpkin picking, sweater weather, cider, donuts…
This is my absolute FAVORITE season of the year! And in the midst of a global pandemic, we need to enjoy
all of the outdoor, social distancing friendly activities we can get!
As with everything, please make sure to check the farms Facebook pages, the weather, mask rules, and acceptable forms of payment before heading out.
Woodstock, IL
Apple orchard, pumpkin patch, and corn maze
 The Barnyard activity area includes the corn maze, magic shows, pig races, pedal karts, petting zoo, etc. Last entry into corn maze is 45 min prior to closing.
Open weekdays 10 AM – 5 PM. Close at 6 PM weekends and holidays
Elkhorn, WI
"We have a patch full of pumpkins ready to be carved and offer pick-your-own apples on a "pay per bag" basis. That means there's no parking fee, no admission fee, and no per-person fee. You only pay for what you're going to pick. This year, pick-your-own (PYO) will be offered on Saturday & Sunday only. There is no entrance to the orchard or pumpkin patch on weekdays."
Sturtevant, WI
78 acre orchard and hardwood forest

Monday-Friday: 9AM until 5PM; the last picking bags are sold at 4PM

Farm Park Fun is open every day! Enjoy activities such as our Corn Maze, Little Red Haybarn, Giant Slide, Corn Palace Corn Box, Straw Mountain, and visit the Goats at the Golden Goat Bridge, PLUS Pony Rides for kids and Peddle Cart Rides on the weekends!
Pick your own apples, peaches, and pumpkins!
Marengo, IL
Limited variety this season, follow their Facebook page for weekend updates on what is available.
Apple picking on weekends only
Pumpkin season begins September 18th!

Free hayrides to pick your pumpkin
Corn maze
Kids play area
Fall decorations
Delicious food & desserts
Hobart, IN
U-Pick apples, pumpkins, and sunflowers.
Tractor rides, corn maze, animal barnyard and more!
Rockford, IL
Wagon rides, play area, animals, and more
Grab 'n' Go donuts and apple cider slushies
Daily hours, 9 AM – 6 PM
"Curran's Orchard grows luscious fruit sprayed with 1/3 of the typical amount of chemicals."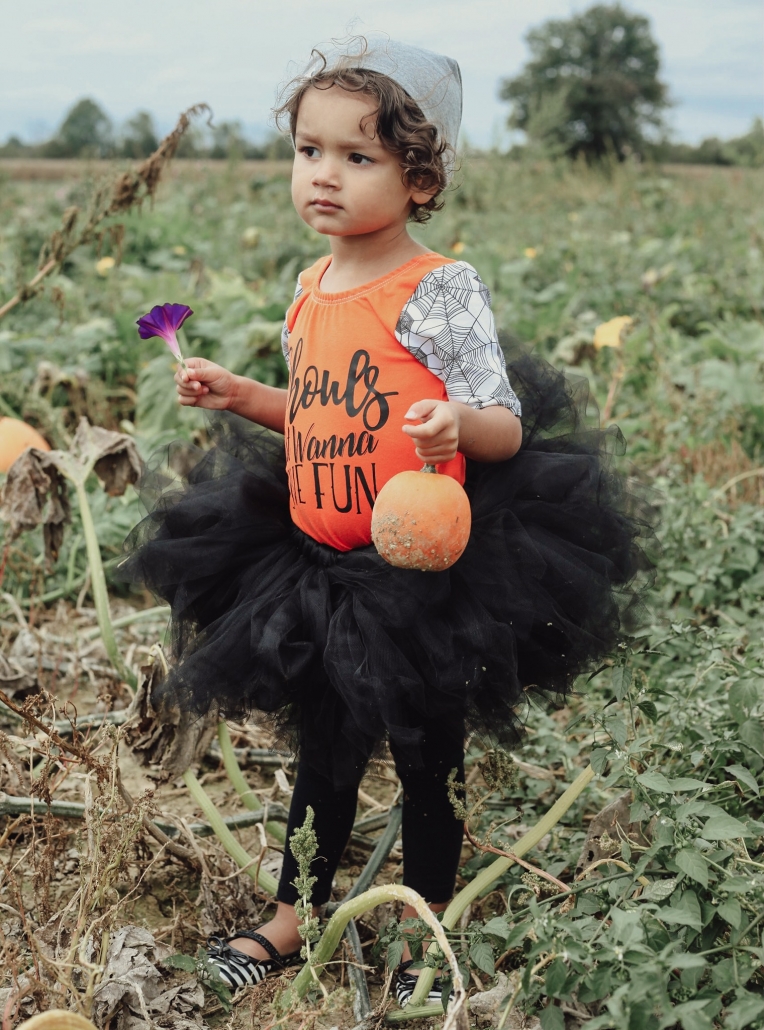 Poplar Grove, IL
A family-owned apple orchard in Poplar Grove, Illinois where guests can enjoy crisp apples, apple cider donuts, and freshly-pressed apple cider.
Weekday picking guests drive their own vehicles to the orchard and park near trees. On weekends guests ride tractor drawn wagons.
Pumpkin picking as well!
"The Apple Barn, restaurants and playground will be open this year, as well as pick-your-own. We hope that the return of your fall favorites will help you continue your family traditions. Please join us for warm cider donuts, a fresh cup of cider, and the time together that we've all been craving."
LaPorte, IN

No Entry Fee, $20 Minimum Purchase for UPick Entry (Families up to 6)

Horses & Pony Rides
Goebbert's Pumpkin Patch and Apple Orchard
Pingree Grove, IL
Fall Festival Open Daily from August 27, 2021 through Halloween Day. Hours are 9-6 every day, including Columbus Day and Labor Day
General Admission includes: Entrance to Animal Land, Pedal Karts, Tire Mountain, Corn Stalk Maze, Wagon Ride to the Field /Orchard, Haunted House, Munchkin Maze, Straw Bale Maze, Western Town, Pumpkin Eating Dinosaur, Goebbert's Pumpkin Express Train Ride, Pumpkin Slide, Jumping Pillow, Chicken Show, Pig Races, and Corn Box (Pony and Camel rides are available for an additional cost of $6 each, and our Pop-A-Shot Attraction for big kids is an additional $3).
"We have an apple orchard at our Farm and apple picking is one of our Fall Festival Attractions. We do not offer apple picking as its own activity, but guests can choose to pay for apple bags and pick apples in addition to their Fall Festival admission."
Purchase admission tickets online in advance
The fall festival at the South Barrington location begins September 11th and runs through Halloween.

Come see the famous Pumpkin Eating Dinosaur, enjoy animals, watch a pig race, and enjoy the bakery.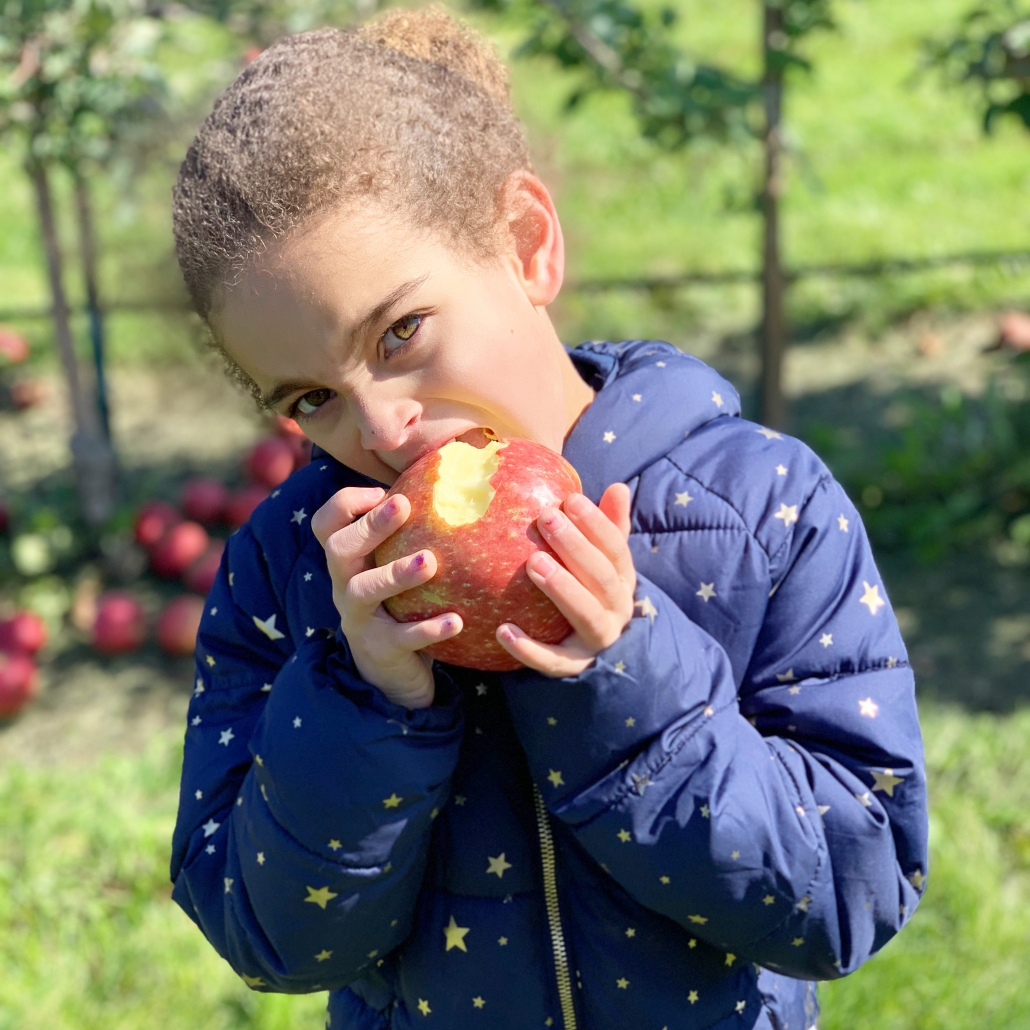 Green Oaks, IL
The closest orchard to Chicagoland!
Small crop this year so hours and days are extremely limited. Follow website and Facebook page to stay on top of updates.
No bathrooms, fruit sampling, hanging out or picnicking this year
One picking stick per group
Pure apple picking fun!

$10 for a 1/2 peck bag

Check their website and Facebook page for hours and schedule
UPDATE! THIS ORCHARD IS ALL PICKED OUT! You are still welcome to enjoy instore purchases.
Woodstock, IL
Next picking day is September 19th
Because of COVID -19 the restrictions are no picnicking and you must wear your mask in the store and in the orchard when you cannot keep the 6' distance
Waterman, IL
Open daily through October 31st, 9 AM – 5:30 PM daily
Children's play area with farm petting zoo and straw maze
Donuts, cider, pies, etc
Everyone over age 2 must have a pre-purchased picking bag to enter the orchard.
Malta, IL
On Fall Festival Days (Saturday, Sunday, Labor Day & Columbus Day Monday) guests must have general admission wristband to enter the u-pick orchard plus a u-pick bag (for up to 4 people). This is required so we are able to restrict the number of guests on our farm each day. Tickets may be purchased in advance through the website.
Fall Festival days are Fri-Sun and holidays
On Weekdays (Monday-Thursday, excluding Labor Day & Columbus Day Monday) it is free to enter the u-pick apple orchard once you have purchased your u-pick bag from inside our Store & Bakery or Cider House.
Barn Yard Play Area is open free of charge Monday through Thursday, and guests are able to pick apples in our U-Pick Apple Orchard from 9am-5:00pm
All the fall festival activities are open on the weekends.
There is a pumpkin patch as well.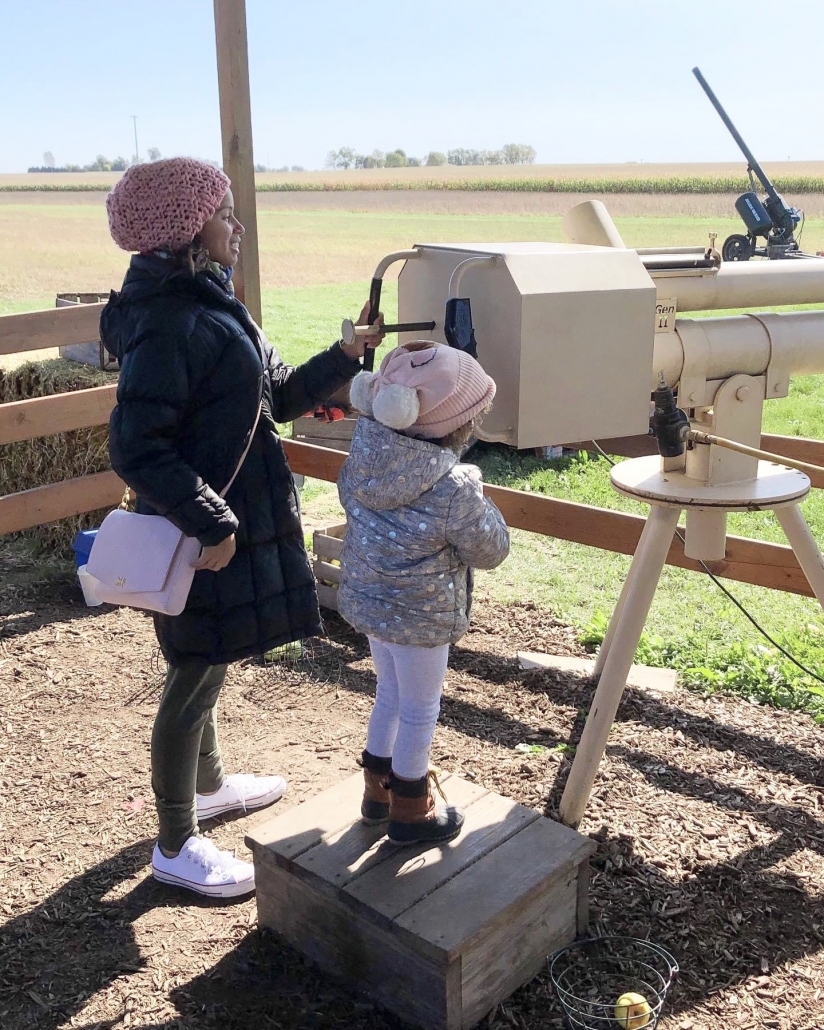 Oswego, IL
The apple orchard is located on our Oswego farm. Before heading to the orchard for U-pick apples, ALL guests must first purchase a bag at the Apple Barn. Last entry to the orchard will be 30 minutes prior to closing time to allow enough time for picking.
The pumpkin patch is at the Oswego farm only
Kids play area, farm animals, 8 acre corn maze, pedal tractors, etc available on weekends.
Apple Orchard & Pumpkin Farm
Admission to Orchard: $12.99 per person Includes 1/4 peck bag of apples. Children 2 and under admitted FREE but don't receive a bag.  Everyone entering the orchard must purchase admission.
Apple picking in the orchard is primarily available weekends only through October. Some varieties may be available to pick weekdays, check for updated information on the Homepage weekly
Pumpkin Farm Fun begins September 19th – October 31st.
Corn maze, pig races, jumping pillow, tractor train, farm animals, and more!
CLOSED FOR THE 2021 SEASON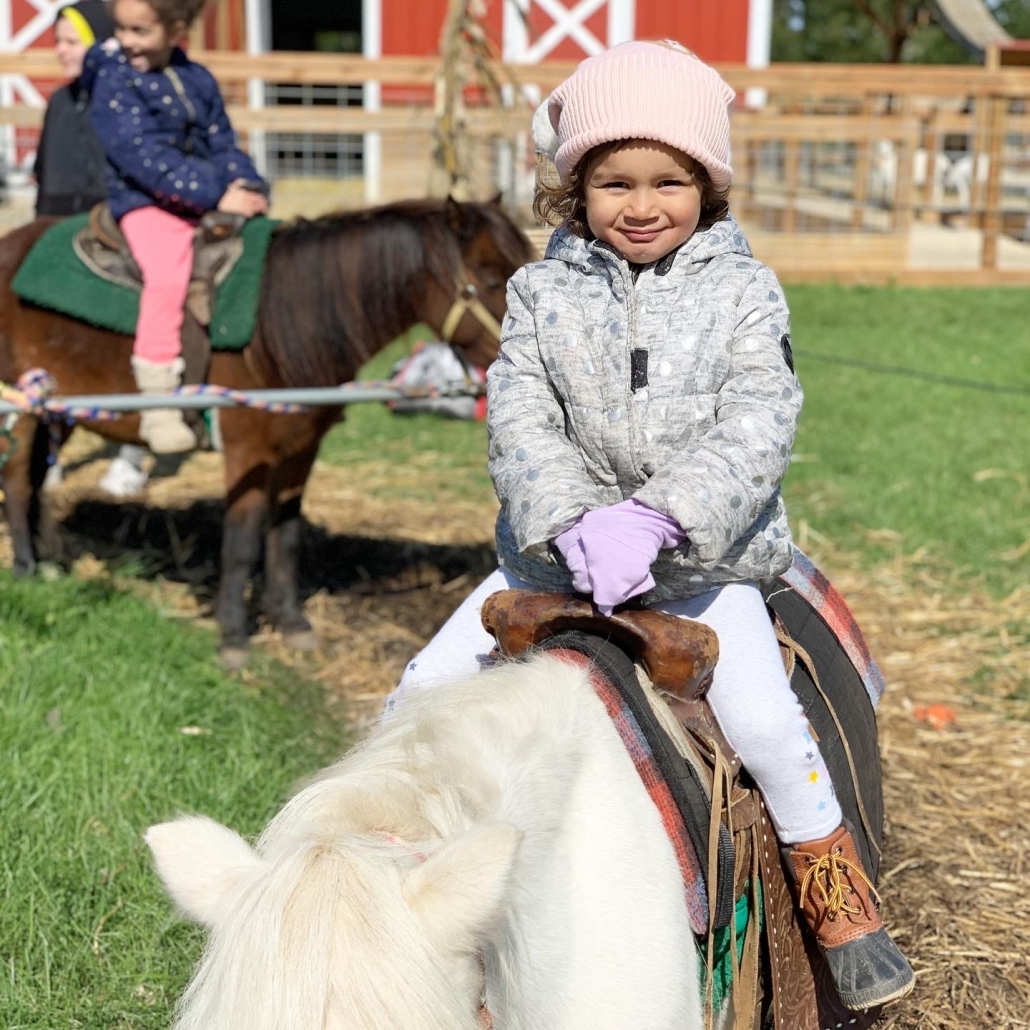 Alto Pass, IL
U-Pick Pumpkin Patch open late September through October 31st
Check their Facebook page for what variety of apples are available in the market
U-Pick sunflower and zinnia field as well
Apple cider donuts, slushies, and cute photo ops!
"Nestled in the hills of Southern Illinois, Rendleman Orchards has been committed to growing and shipping quality peaches, nectarines, apples, and vegetables to the commercial produce markets throughout the Midwest since 1873!"
Harvard, IL
"Our u-pick apple orchard, located in Northern Illinois near the Wisconsin state line, offers family fun and  entertainment in a beautiful 120 acre setting from mid-August through mid-November. We have over 17,000 apple trees with over 30 varieties of apples to choose from and new varieties are being planted each spring. We also grow pumpkins, giant pumpkins, gourds and winter squash. And we have the country's first apple tree maze, Amaze 'N Apples, where you can wonder through 1.5 miles of trails with 9 varieties of apples. Don't forget our world famous apple cider donuts and the best apple picking in northern Illinois!"
Playground, petting zoo, train, carousel, and the countries only apple tree maze!
$10 admission includes: Access into the Orchard, Access into the Pollination Garden, 1/4 Peck Bag to Fill in the Orchard.
Picking available Monday through Sunday
Picking available beginning September 25th on weekends only. If you prefer to pick your own pumpkins, head over to our pumpkin U-pick entrance on the West side of the Entertainment Area to our new pumpkin field. Cost for Pumpkin Picking is $7/person and includes one pumpkin of any size from the field. Wagons will not provided this season due to Covid-19, so we encourage guests to bring their own.
McHenry, IL
A $10 minimum apple purchase per person is required to enter the apple orchard. (At least a 1/4 peck bag) Ages 2 and under are free.
Weekend tractor-driven rides to the Pumpkin Patch are available from 10 AM – 5:30 PM. Please check our website, Facebook, or call (815) 675-6396 for picking conditions and more information.
Fall fun / farmtractions Fri-Sun only as well as Columbus Day.
Cherry Valley, IL
Check their website for the apple variety U-pick schedule
Fresh donuts, pie, and apple cider!
Plano, IL
FALL 2021 SEASON IS HERE! Open Thu – Sun 10a – 6p. Woody's is a U Pick orchard with a Bakery, Farm Market Gift Shop, Play Yard, and Train. Enjoy Apple Cider Donuts and Slushies on our beautiful farm. Check our website for pricing
Woodys Orchard has a 2 acre pumpkin field that features 15 varieties of pumpkins planted randomly. The pumpkins range from 1-5 lb "cannon balls" to 100 lbs "atlantic giants."
https://whatshouldwedotodaychicago.com/wp-content/uploads/2020/09/IMG_0410.png
1363
2048
Helen Bosacki
https://whatshouldwedotodaychicago.com/wp-content/uploads/2019/05/What-Should-we-do-today-Chicago-desktop_03.png
Helen Bosacki
2021-10-07 13:51:02
2021-10-07 13:51:02
2021 Chicagoland Apple Orchards