What Should We Do In Chicago Thanksgiving Weekend? November 29th – December 1st, 2019
Family visiting from out of town? Are YOU visiting from out of town?
There's nothing like celebrating the holidays with family and
enjoying all of the events that Chicago has to offer!
Don't forget, this Saturday is Small Business Saturday! Support your local businesses!

Major Ongoing Events this Weekend:
Twas The Night Before… by Cirque du Soleil
The Chicago Theatre
"'Twas the Night Before… is an exhilarating spin on the beloved Christmas classic as only Cirque du Soleil could imagine. This festive show about the wonders of sharing and friendship promises to spark lasting memories in the hearts of families this holiday season."
Performances through December 8th.
"The most wonderful time of the year deserves the most wonderful event of the year. For that, we invite you to join us in celebrating 25 years of ZooLights at Lincoln Park Zoo. This one-of-a-kind, festive holiday experience offers a free, merry, family-oriented celebration of joy right in the heart of the city.
ZooLights features hundreds of luminous displays and incredible seasonal activities, all under the glow of 2.5 million lights. We ensure that it will be the hap, hap, happiest season since Bing Crosby tap-danced with Danny Kaye."

4:30–9 p.m on

November 29, 30,

December 1, 6, 7, 8, 13, 14, 15, 16, 17, 18, 19, 20, 21, 22, 23

,

26, 27, 28, 29, 30, 31*,

January 1, 2, 3, 4, 5
"Now in our 38th year, visit Chicagoland's Largest and Longest Running Lights Festival with over One Million Twinkling LED Lights, a 41-Foot Talking Tree, a Skating Rink, Ice Carvers, and Much More! "
"Nightly Activities: Holly Jolly Theater, Ice Carver, Magician , 41-foot "Talking Tree" , 20-foot Lit Orb (Photo Op) and more!"
Saturdays and Sundays, November 30th – December 31st.
830 N. Michigan Ave
October 24th – January 26th
"Toys"R"Us and Candytopia are excited to present an all-new, totally immersive, fill-up-your-photo-album super-experience! The Toys"R"Us Adventure is a vast indoor playland that celebrates all the whimsy, silly and FUN of toys. Explore over eight mind-blowing rooms and celebrate play with installations designed around brands you know and love."
Woodfield Mall, Schaumburg
November 6th – December 31st
"Portillo's Pop Up Experience is coming to town! Visit us at Woodfield Mall in Schaumburg, Illinois from November 6 until December 31 to spread holiday and Portillo's cheer at our bun-believable Pop Up Shop! Take a ride on our onion ring tire swing or bask in the cheesy glory of our French fry room as you walk through a Portillo's paradise! Our catering lounge is the perfect spot for you to relax and place your holiday catering orders after taking an a-bun-dance of pictures in our Chicago-style photobooths. The Portillo's Pop Up Experience will also sell packaged Italian beef, French bread, peppers, and whole chocolate cakes as well as a variety of Portillo's branded merchandise for holiday gift-giving. Tickets are free to enter."
Santa HQ at Fashion Outlets of Chicago
Friday, November 11th – December 24th
Fashion Outlets of Chicago, Rosemont
"At Santa HQ, children will be "scanned" as they arrive and determined to be "naughty or nice," enter an observatory where they will use special tablets to choose magical environments – the night sky or the inner workings of a clock on the wall, for instance – and be able to take an "ELFIE" (an image of the child as a dancing elf), among other attractions. Furry family members can join in the fun and be a part of family photos with Santa during Fashion Outlets of Chicago's pet nights. Every Monday, from November 28 through December 19, families can bring their cat or dog to Santa HQ for photos with Santa from 6 to 8 p.m."
Chicago: November 15th – December 24th
Wrigleyville: November 22nd – December 31
Milwaukee: November 15th – December 24th
"The smell of roasted nuts, fresh pretzels, bratwurst, and hot spiced wine, the sound of music, and the glimmer of sparkling Christmas ornaments, all in a cozy atmosphere – this is the authentic German-style Christkindlmarket experience. Visitors can explore vendors' products from all around the world and enjoy the unique shopping experience while enjoying international food, beverages and performances at the outdoor market that is always free of admission. Children have the opportunity to participate in Kinder Club activities."
Wrigleyville's Winterland event series has a host of family friendly activities for your family. Ice rink, curling & skating lessons, Santa Claus visits, and movie screenings. Christkindlmarket also is located there as well as a tree lot at Big Star, workshops and breakfast with Santa.
The Winterland Tree Lighting will be Monday, December 2nd at 6 pm!
November 15th – March 8th, 2020
Millenium Park, McCormick Tribune Ice Rink
"Skating is FREE and open to the public. Those skating with their own skates will need to pick up a FREE admission wristband."
The Winter Workouts Program will offer free ice skating lessons for all ages and skill levels on select days.
"DJs spin the music while skaters spin on the ice on the 1st and 3rd Thursdays, 6-8pm (December 6 & 20, January 3 & 17, February 7 & 21, March 6). Admission is free. Skate rental rates apply."
Ice Skate at Maggie Daley Park
The skating ribbon at Maggie Daley park is now open!
"In the heart of downtown Chicago, with the City's skyline as a backdrop, a ribbon of ice winds through a rolling landscape providing an ice skating experience unlike any other. The skating ribbon is dramatically different from typical civic ice rinks, creating a multi-sensory activity that is integrated into the landscape. Skaters can experience "alpine in the city" as they lace up their ice skates and follow a path twice the length of a lap around a traditional skating rink. Complementing the ribbon are places to enjoy a cup of hot chocolate and rent skates."
Admission is free unless renting skates.
Visit the Giant Christmas Tree at the Museum of Science and Industry
"It began in 1942 with a single tree. Today, the Museum's beloved annual celebration features a four-story, floor-to-dome Grand Tree, surrounded by a forest of more than 50 trees and displays decorated by volunteers to represent the holiday traditions from cultures around the globe. On the weekends, you can also enjoy live holiday performances. It's the one-of-a-kind experience that brings a whole world of holiday joy under one roof."
Chicago Union Station
"Relive the magic of this classic holiday story with your family on a real train!"
Select dates November 23rd – December 29th
Fox River Trolley Museum Polar Express
"The Fox River Trolley Museum will operate three Christmas-themed events for 2019. Please refer to each event's respective page for a detailed event description and purchase options. Please note different dates, prices, times and locations for events."
Departing/ returning to the Jon J. Duerr Forest Preserve in South Elgin
Illumination: Tree Lights at the Morton Arboretum
November 23, 2019–January 5, 2020
"See trees in a different light at Illumination: Tree Lights at The Morton Arboretum. Be surrounded by color as you walk a one-mile paved path amid interactive lighting effects that highlight the beauty of trees in winter. Enjoy seasonal music, marvel at ever-changing, captivating lighting designs, and warm up by a crackling fire with a cozy drink or roast marshmallows for s'mores. In this unparalleled spectacle of color, light, and sound, you will be awed and delighted to see returning favorites and surprising new sights, including Tree Fascination–a brilliant digital projection of immersive color and pattern on a grove of Eastern white and Scots pine trees. Illumination will highlight the many gifts of trees: natural beauty, increased feelings of peace and calm, homes for wildlife, and the air we breathe."
Lightscape at Chicago Botanic Garden
November 22nd – January 5th
"You'll wander into a festive world of wonder and light. Along a mile-long path, the night comes alive with color, imagination, and sound, from a playful choir of singing trees to a spectacular waterfall of light. At times, you'll find yourself in the center of it all — stepping inside a cathedral of golden light, walking down an avenue of luminous linden trees, moving through colorful ribbons of light."
Goebbert's Winter Wonderland Light Show
Friday, November 22, 2019 through Sunday, January 5, 2020; Tuesday – Sunday (closed on Mondays)
"We have new songs, new structures and new designs for the 2019 Winter Season – the show is also 50% longer! Just as a reminder, all of our farm activities are closed during the winter. The only activity on the farm is the drive through Light Show."
Lake County Fairgrounds, Grayslake
"Drive Thru Light Show… Almost a full mile of nearly 1,000 programmable elements and over 200,000 animated lights dancing to Christmas music rather than just the old fashioned still displays."
November 22nd – December 31st
November 26th – December 27th
Everyday from 4 – 9 pm
Downtown Naperville. 120 Water Street
"Water Street will be converted into a winter wonderland with a combination of holiday displays and music. There is no charge for visitors to Naper Lights."
"Take a magical trip to visit Santa on the Naperville Riverwalk at Jackson Avenue and Webster Street. Admission is free. Photos can be purchased for $8 each or two for $15. Don't miss this unique opportunity to visit Santa this year!"
November 30th – December 22nd
Santa Claus at the Geneva Commons
November 29th – December 22nd
Visit Santa & Take a Photo!
Greet Santa as he strolls through the Commons, giving out gifts and "ho-ho-ho"-ing to everyone he meets. Or visit Santa's Station, located next to the mall office, for a visit, a photo, and treats for the kids.
Friday, November 29
5:30pm – 7:00pm
Sundays, December 1, 8, 15, & 22
Strolling Santa • 12:30pm – 1:30pm
Visit Santa's Station • 2pm – 5pm
Bolingbrook's Festival of Lights Light Show
The Promenade Bolinbrook
"250,000 LED lights twinkle, sparkle and dance to more than 20 different Holiday songs. The show will play nightly on the hour 5,6,7,8,9 pm. The last show will be on Dec. 31st. The 60 ft tree sits in the round-a-bout in the middle of the shopping mall."
Daily November 2019 through March 2020
"The animals may be hibernating, but we still have gnomes. Can you find all of the gnomes hiding in the Children's Garden?"
Berwyn Park District
You will find special mailboxes at Komensky and Piper schools, Proksa, Freedom, Smirz and Hessler parks, as well as throughout the Berwyn Depot District. IMPORTANT: PLEASE BE SURE TO INCLUDE A LEGIBLE RETURN ADDRESS AND THE NAME OF YOUR CHILD'S SCHOOL OR HOME ADDRESS SO THAT SANTA CAN WRITE BACK!
November 29th – December 26th
Open 7 days a week from 5 – 9 pm
"One of the largest free outdoor drive-through holiday light displays in Northern Illinois, the Aurora Festival of Lights, returns for its 13th year in 2019 with even more dazzling displays that will delight both adults and children."
Downtown Long Grove Holiday Festivities
" Festivities each weekend (Saturdays & Sundays through December 22nd) include complimentary horse-drawn sleigh rides, carolers, Victorian buildings trimmed in lights, and cobblestone walkways lined in luminaries, and special appearances by Santa."
"The streets of downtown Long Grove come alive for the holidays beginning with horse-drawn sleigh starting Saturday, November 23rd. Thereafter, the sleigh rides will continue every Saturday and Sunday through December 22nd*. Kids of all ages may encounter Santa Claus walking through the village, and on occasion, they can also formally meet the Jolly Old Elf and have pictures taken at the Long Grove Visitor Center. Also helping set the festive mood each weekend will be holiday carolers."
Sign up for sleigh rides in person at the Visitors Center.
Summerfield Zoo Christmas Town
Do you want to meet Santa's reindeer and watch baby reindeer training sessions? Head to Christmas Town in Belvidere!
Visit Friday – Sunday until December 22nd.
City of Chicago Christmas Tree
The tree will be up until January 6th.
Millennium Park's Wrigley Square, Michigan Ave. & Randolph St.
Downers Grove Gingerbread Festival
November 29th – December 1st
This weekend long event includes carriage rides, Santa, gingerbread house competitions and gingerbread man hunt. Breakfast with Santa, photo ops, and small business Saturday!
St. Charles Holiday Homecoming
"Holiday Homecoming is one of the Midwest's most spectacular holiday events and is the official kick-off to the holiday season in St. Charles. This festive event has been making holiday memories for area families for years.The two-day Holiday Homecoming event kicks off Friday at 5:00 pm with Lighting of the Lights on the First Street Plaza. The annual Electric Christmas Parade takes place Saturday at 5:30pm on Main Street in St. Charles. There also is seasonal music, holiday movies, sleigh rides and visits with Santa. All Holiday Homecoming events and activities are free of charge."
5 p.m. Friday, Nov. 29, and 9 a.m. to 5 p.m. Saturday, Nov. 30
Harry Potter and the Goblet of Fire In Concert
November 29th – December 1st
Chicago Symphony Orchestra, Orchestra Hall
"Get ready to fight a dragon, swim with merpeople, and find out just who put Harry's name in the Goblet of Fire™! Rediscover the magic of Harry Potter and the Goblet of Fire™ while the Chicago Symphony Orchestra performs Patrick Doyle's unforgettable score. Bring the family for a fun Thanksgiving outing! Please note: this film is rated PG-13."
It's that time of year again! The Moms of Western Burbs is kicking off our 3rd Annual Holiday Toy Drive for Ann & Robert H. Lurie Children's Hospital of Chicago! These toys will be given to children during hospital stays, after tests, treatments, surgeries, etc to brighten their day! Take note of the links for our Amazon Wishlist & Target Wishlist from the image so you can shop from the comfort of home. The toys you buy online will get shipped directly to us. It's that easy!!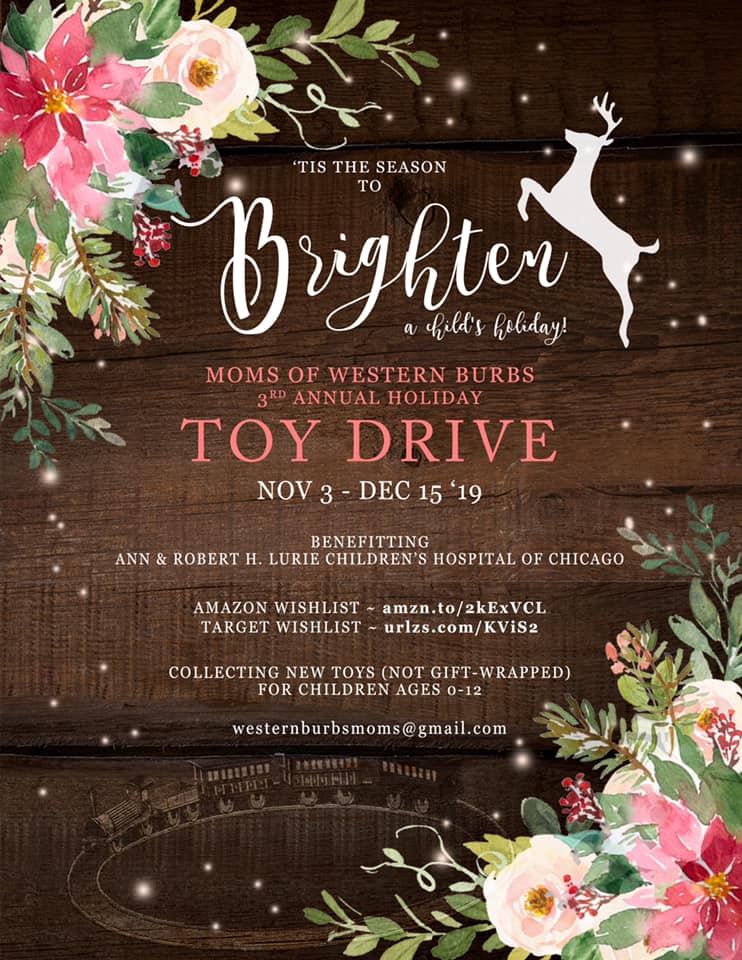 FRIDAY
9:30 AM & Noon: Teddy Bear Tea
Rialto Square Theatre, Joliet
"

The Rialto Square Theatre holiday tradition continues. Young and old alike will enjoy this special brunch featuring delicious food and family fun complete with a special appearance by St. Nick himself and a keepsake teddy bear. A ticket is required for all in attendance and space will fill up quickly!

"
10:00 AM: 28th Annual Wreathing of the Lions
Art Institute Chicago, Michigan Ave. steps

"Join us on the Michigan Avenue steps as we reveal our beloved lions in their festive wreathes. Enjoy special performances by Chicago Gay Men's Chorus and complimentary hot chocolate while you welcome the holiday season. Following the ceremony, head inside the museum for art-filled activities in the Ryan Learning Center.

"
10:00 AM: Joliet Light Up The Holidays
"Light Up the Holidays Parade and Festival is held on the Friday following Thanksgiving each year. Activities begin downtown as early as 10:00 a.m., and include the Fantastic Fun Fair in the Joliet Area Historical Museum's auditorium, as well as activities in the Joliet Public Library, Jitters Coffeehouse, Chicken-n-Spice, Chevere Latin Cafe, JJC City Center Campus and more. The Rialto Square Theatre's annual holiday festivities also add to the holiday spirit in Downtown Joliet!Christmas Tree Lighting begins at 5:15 p.m. in Van Buren Plaza followed by the Light Up The Holidays Parade at 5:30 p.m."
11:00 AM: Holiday Programming at Peggy Notebaert Nature Museum
"From 11am to 1pm, visitors can meet our balloon sculptor for a special balloon animal, take part in drop-by fall crafts, and sip on complimentary hot cider. Plus, our littlest visitors can have a play date in our playroom from 11am to 2pm.
Love our animals? Get up-close to them starting at 11:30am with a special supersized Critter Connection featuring Bob the Blanding's turtle. Then, join us for two First Flight Butterfly Releases at noon and 2pm."
1:00 PM: Lake Forest 36th Annual Holiday Tree Lighting Ceremony
"Starting at 1:00pm., a holiday movie will be shown at Gorton Community Center. Come to Market Square at 3:00pm – there will be events for the whole family to enjoy! There will be an Ice Sculpting performance by Art Below Zero beginning at 3:00pm. An arts and crafts activity will also be available beginning at 3:00pm. Children will have an opportunity to make a holiday ornament to be hung on the Christmas tree. For children and the young-at-heart, there will be a special visit from Santa Claus from 3:30-5:00 pm., and everyone can enjoy hot chocolate and donut holes provided by Lake Forest Bank & Trust Company. A caroling concert by the Lake Forest High School Choristers begins at 4:30pm. Lake Forest Dance Academy performance begins at 5:00pm. and just after, the lights will be set aglow."
1:30 PM: Glen Ellyn Holiday Walk Kick Off
"Celebrate the holidays with music from One Voice Choir, Vivaldi Strings, Glenbard South High School Madrigal Singers, and Genuine Brass! Kids can make a holiday-themed craft. Afterwards, head downtown for the Village's Annual Tree Lighting Ceremony."
3:00 PM: Parkway Bank Light Up The Park
Rosemont
"Parkway Bank Park will kick off its winter programming Friday, November 29th with the opening of the Chicago Wolves Ice Rink at Parkway Bank Park and "Light Up The Park" tree lighting event, featuring a spectacular display of more than 80,000 lights in the park."
Admission to the Chicago Wolves Ice Rink is free. Guests are invited to bring their own skates.
Skate rentals are also available onsite for $8
Free Activities: Ice Skating on the Chicago Wolves Ice Rink, Strolling Carolers, Sleigh Rides, Santa & Mrs. Claus
3:15 PM: Downers Grove Gingerbread Festival Kickoff
Story time at the Downers Grove Library for preschool – second grade children
Procession to the tree lighting ceremony after story time. Lighting begins at 4:30 pm.
4:25 PM: Lincoln Park Zoo Lights Opening Night
"

You are cordially invited to help us flip the switch! Join thousands of your closest friends for the official lighting ceremony on the zoo's Main Mall, near the stairs at the Gift Shop, to kick off the most wonderful time of the year.

"
6:00 PM: Cloud Gate Caroling
Millenium Park, Cloud Gate
Sounds Good! Choir
"

All are invited to bundle up and belt out holiday classics during Caroling at Cloud Gate located on the park's iconic Cloud Gate Plaza. The festive series is part concert, part sing-along with some of our city's most entertaining choirs on Fridays from November 29 through December 20 beginning at 6pm.

"
6:00 PM: Glen Ellyn Tree Lighting
Santa Claus begins walking at 6 pm
6:30, Santa arrives to light the tree at Main and Crescent
7-8:30 p.m. Santa and his helpers will await the children who stop by the Glen Ellyn Fire Station, Main Street and Pennsylvania Avenue.
6:00 PM: Living Wheaton Christmas Parade
Wheaton, IL
"Join the festivities at this family-favorite kick-off to the holiday season. Santa will once again be in town and riding in the parade."
6:00 PM: Park Ridge Winterfest
**UPTOWN PARK RIDGE**
6:00pm – 9:00pm
SANTA arrives on a Fire Truck at City Hall!! Mayor Marty Maloney
welcomes Santa and the community from 6:00pm – 8:30pm
**SOUTH PARK SHOPPING AREA**
6:00pm – 9:00pm
Visit South Park merchants for holiday cheer & festive treats!
3 Trolleys travel between Devon and Hodges Park – up Prospect and down Courtland – enjoying beautifully decorated homes and bright luminaries.
7:00 PM: Little Friends Parade of Lights
Downtown Naperville
Starts from Centennial Beach Parking Lot and travels east down Jackson St.
"Mark your calendars & plan to attend this popular annual holiday parade and tradition brought to you by Little Friends in partnership with the Downtown Naperville Alliance. Santa and Mrs. Claus will be on hand to celebrate the Season! Bundle up and enjoy an evening of festivities, brightly lit floats and musical entertainment!"
Immediately following the parade Santa and Mrs. Claus will visit with kids inside the Santa House (until 9pm) on the Riverwalk.
7:00 PM: Crystal Lake Festival of Lights Parade
"This year's theme will be "A Dr. Seuss Christmas." The evening is filled with lights, music, pageantry, and a little magic! The parade ends at the corner of Williams & Crystal Lake Avenue, when Santa throws his magic dust to light the 40-foot Community Christmas Tree!"
SATURDAY
9:00 AM: Enchanted Castle Princess Holiday Party with Santa
Enchanted Castle in Lombard
Holiday Breakfast Buffet, Performances, Meet & Greet, Unlimited Attractions, 10$ game card
Purchase tickets before arriving, space is limited
10:00 AM: Muppet Babies – Saturday Morning Cartoon Brunch
Carbon Arc Bar
"Every Saturday morning Carbon Arc Bar & Board takes over Theater 1 of the Davis Theater and shows cartoons; this week the cartoon The Muppet Babies! We serve brunch at the bar/restaurant. Using our direct-connect to the theater your children can hang and watch cartoons while you enjoy some delicious grub & drinks! The shows start by 10:15AM every week. In the theater they typically end sometime between 12PM and 1PM based on the next movies' start time. For anyone caught between end of cartoon and end of brunch they will continue to play in the Dining Room of the restaurant."
10:30 AM: Free Family Holiday Movie
Glen Ellyn Art Theatre
This weekends showing will be Elf
"The Glen Art Theatre will offer free children's holiday-themed movies, at 10:30 am beginning on Nov 30th and continuing on every Saturday at 10:30 a.m. until Christmas."
12:00 PM: Living Wheaton Christmas Festival
Wheaton, IL
Mail your letter to Santa, enjoy roaming entertainment, photo ops with The Merry Elf and Santa's Reindeer, cookie decorating, and ice carving!
12:00 PM: Fiddleheads
Garfield Park Conservatory
"Join us most weekends for activities and projects that get kids and grown ups wondering about the plants and the natural world. Come visit on Saturday or Sunday in the colder months to get a dose of the tropics and keep kids connected to nature throughout winter. And in the summer, join us to explore the beautiful outdoors in our nature play space, Play & Grow. Each week we provide a different science-based activity, like tinkering with plants and blocks, playing games, participating in collaborative art projects, and exploring plants around the world."
1:00 PM: Lake Forest Cocoa Crawl
"The Lake Forest/Lake Bluff Chamber of Commerce is excited to announce the Lake Forest Cocoa Crawl – a festive kickoff to the holiday shopping season! It will be held on Small Business Saturday and will take place throughout downtown Lake Forest. the event is free and open to everyone.Shoppers are invited to pick up a "passport" at the Cocoa Crawl Station behind the Christmas Tree in Market Square and visit participating businesses listed on the passport to collect stamps. Shoppers who turn in stamped passports are eligible to win prizes from the businesses they visited."
1:00 PM: Selfies with Santa
Streets of Woodfield: 601 North Martingale Rd.
"Be merry and celebrate the holidays at The Streets of Woodfield! Bring the family and your furry friends to take selfies with Santa and Mrs. Claus. Get into the holiday spirit at our ugly sweater station. Supplies will be provided, just bring your sweater! And don't forget to visit our free hot cocoa bar. Spread some holiday cheer and donate unwrapped gifts to benefit the Woodfield Area Children's Organization."
2:00 PM: Roselle Cocoa Crawl
"Festivities begin with Celebrate the Season hosted by the Roselle Public Library, 40 S. Park St., with a musical performance and Santa visit "fast pass" distribution at starting at 1:00 p.m. Santa will arrive by fire truck at 1:45 p.m. and will greet the children and hear all about their holiday wish lists along with Rose Queen Sarah Abraham."
"The Cocoa Crawl will take place in Roselle's Town Center, with participating businesses from the Roselle Main Street Merchants Association. Grab Cocoa Crawl passport sheets and get stamps at each of the participating businesses for the chance to win prizes."
5:00 PM: Wheaton Christmas Tree Lighting
"Join the festivities of a new tradition in Wheaton. The official City of Wheaton Christmas Tree is moving to City Hall this year and is a tree that we can watch grow from year-to-year."
5:30 PM: St. Charles Electric Christmas Parade
Begins at Main Street and 6th Street and goes to 4th Avenue
SUNDAY
10:00 AM: Drag Queen Story Time and Brunch: Holiday Edition
Marisol Restaurant and Bar at The Museum of Contemporary Art. Enter via Griffin Entrance on Pearson
Event is free with reservation
Brunch at 10 am, performances at 11 am and 1 pm
"Join Chicago Queens Lucy Stoole and Kat Sass for family-friendly story time inside Marisol, the restaurant and bar within the MCA. Stoole and Sass sandwich performances between reading selections of their favorite books from the MCA Store for a holiday event for kids of all ages."
10:00 AM: The Muppets – Sunday Morning Cartoon Brunch
Carbon Arc Bar
"Every Saturday morning Carbon Arc Bar & Board takes over Theater 1 of the Davis Theater and shows cartoons; this week the cartoon The Muppet Babies! We serve brunch at the bar/restaurant. Using our direct-connect to the theater your children can hang and watch cartoons while you enjoy some delicious grub & drinks! The shows start by 10:15AM every week. In the theater they typically end sometime between 12PM and 1PM based on the next movies' start time. For anyone caught between end of cartoon and end of brunch they will continue to play in the Dining Room of the restaurant."
11:00 AM: Secret Agent Storytime
Wicker Park Secret Agent Supply Co
"Your mission, if you choose to accept it, is to sing, dance, read books, and make crafts with Agent Zach and your friends, parents, and siblings on the first Sunday of every month at the Wicker Park Secret Agent Supply Co. This message will self-destruct in 30 seconds. We're counting on you, junior story agents! This event is free and open to the public. Recommended for junior agents ages 0-4 and their families."
12:00 PM: Fiddleheads
Garfield Park Conservatory
"Join us most weekends for activities and projects that get kids and grown ups wondering about the plants and the natural world. Come visit on Saturday or Sunday in the colder months to get a dose of the tropics and keep kids connected to nature throughout winter. And in the summer, join us to explore the beautiful outdoors in our nature play space, Play & Grow. Each week we provide a different science-based activity, like tinkering with plants and blocks, playing games, participating in collaborative art projects, and exploring plants around the world."
1:00 PM: 360 Sunday Funday
360 Chicago Observation Deck
"Bring the kids to the observation deck every Sunday for a little magic, a little music, and a lot of magnificent views of Chicago."
2:00 PM: Ashley & Simpson at Lisle Library
"Join us for Ashley & Simpson's Holiday Spirit show at the Lisle Library on December 1st from 2-4pm."
https://whatshouldwedotodaychicago.com/wp-content/uploads/2019/11/img_3339-1.png
1540
2048
Helen Bosacki
https://whatshouldwedotodaychicago.com/wp-content/uploads/2019/05/What-Should-we-do-today-Chicago-desktop_03.png
Helen Bosacki
2019-11-29 07:15:03
2019-11-29 11:49:48
What Should We Do In Chicago Thanksgiving Weekend? November 29th – December 1st, 2019