What Should We Do This Weekend? Chicago, IL November 22nd – 24th, 2019
Looking for things to do in Chicago and the burbs this weekend?
Here are over 40 family-friendly events happening in Chicagoland this weekend!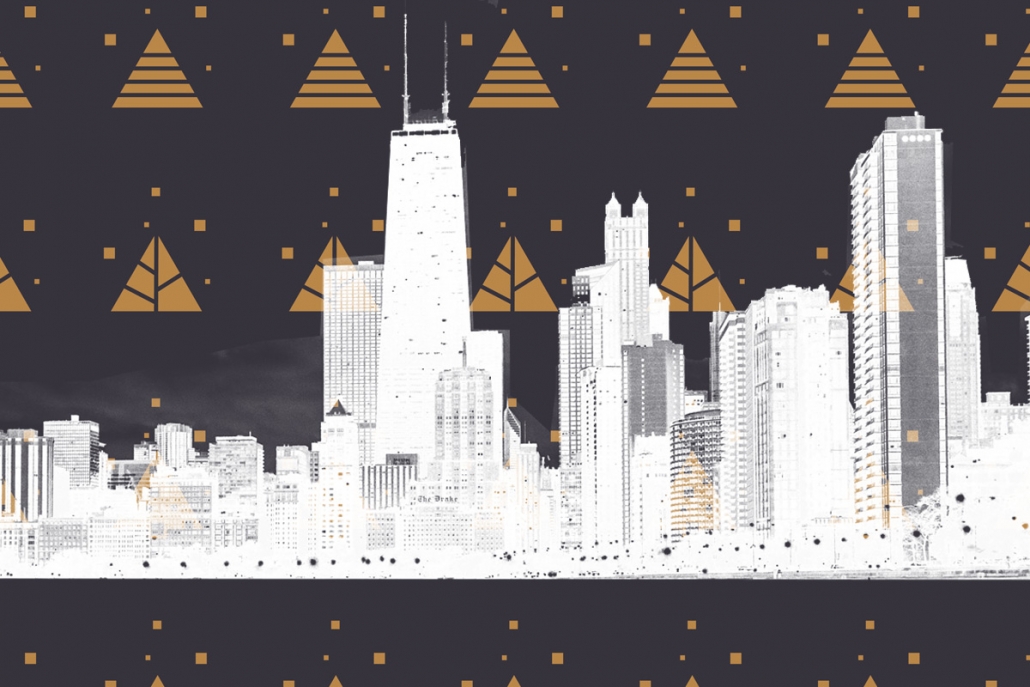 Major Ongoing Events this Weekend:
830 N. Michigan Ave
October 24th – January 26th
"Toys"R"Us and Candytopia are excited to present an all-new, totally immersive, fill-up-your-photo-album super-experience! The Toys"R"Us Adventure is a vast indoor playland that celebrates all the whimsy, silly and FUN of toys. Explore over eight mind-blowing rooms and celebrate play with installations designed around brands you know and love."
Woodfield Mall, Schaumburg
November 6th – December 31st
"Portillo's Pop Up Experience is coming to town! Visit us at Woodfield Mall in Schaumburg, Illinois from November 6 until December 31 to spread holiday and Portillo's cheer at our bun-believable Pop Up Shop! Take a ride on our onion ring tire swing or bask in the cheesy glory of our French fry room as you walk through a Portillo's paradise! Our catering lounge is the perfect spot for you to relax and place your holiday catering orders after taking an a-bun-dance of pictures in our Chicago-style photobooths. The Portillo's Pop Up Experience will also sell packaged Italian beef, French bread, peppers, and whole chocolate cakes as well as a variety of Portillo's branded merchandise for holiday gift-giving. Tickets are free to enter."
Santa HQ at Fashion Outlets of Chicago
Friday, November 11th – December 24th
Fashion Outlets of Chicago, Rosemont
"At Santa HQ, children will be "scanned" as they arrive and determined to be "naughty or nice," enter an observatory where they will use special tablets to choose magical environments – the night sky or the inner workings of a clock on the wall, for instance – and be able to take an "ELFIE" (an image of the child as a dancing elf), among other attractions. Furry family members can join in the fun and be a part of family photos with Santa during Fashion Outlets of Chicago's pet nights. Every Monday, from November 28 through December 19, families can bring their cat or dog to Santa HQ for photos with Santa from 6 to 8 p.m."
Chicago: November 15th – December 24th
Wrigleyville: November 22nd – December 31
Milwaukee: November 15th – December 24th
"The smell of roasted nuts, fresh pretzels, bratwurst, and hot spiced wine, the sound of music, and the glimmer of sparkling Christmas ornaments, all in a cozy atmosphere – this is the authentic German-style Christkindlmarket experience. Visitors can explore vendors' products from all around the world and enjoy the unique shopping experience while enjoying international food, beverages and performances at the outdoor market that is always free of admission. Children have the opportunity to participate in Kinder Club activities."
Wrigleyville's Winterland event series has a host of family friendly activities for your family. Ice rink, curling & skating lessons, Santa Claus visits, and movie screenings. Christkindlmarket also is located there as well as a tree lot at Big Star, workshops and breakfast with Santa.
The Winterland Tree Lighting will be Monday, December 2nd at 6 pm!
November 15th – March 8th, 2020
Millenium Park, McCormick Tribune Ice Rink
"Skating is FREE and open to the public. Those skating with their own skates will need to pick up a FREE admission wristband."
The Winter Workouts Program will offer free ice skating lessons for all ages and skill levels on select days.
"DJs spin the music while skaters spin on the ice on the 1st and 3rd Thursdays, 6-8pm (December 6 & 20, January 3 & 17, February 7 & 21, March 6). Admission is free. Skate rental rates apply."
Ice Skate at Maggie Daley Park
The skating ribbon at Maggie Daley park is now open!
"In the heart of downtown Chicago, with the City's skyline as a backdrop, a ribbon of ice winds through a rolling landscape providing an ice skating experience unlike any other. The skating ribbon is dramatically different from typical civic ice rinks, creating a multi-sensory activity that is integrated into the landscape. Skaters can experience "alpine in the city" as they lace up their ice skates and follow a path twice the length of a lap around a traditional skating rink. Complementing the ribbon are places to enjoy a cup of hot chocolate and rent skates."
Admission is free unless renting skates.
Visit the Giant Christmas Tree at the Museum of Science and Industry
"It began in 1942 with a single tree. Today, the Museum's beloved annual celebration features a four-story, floor-to-dome Grand Tree, surrounded by a forest of more than 50 trees and displays decorated by volunteers to represent the holiday traditions from cultures around the globe. On the weekends, you can also enjoy live holiday performances. It's the one-of-a-kind experience that brings a whole world of holiday joy under one roof."
Chicago Union Station
"Relive the magic of this classic holiday story with your family on a real train!"
Select dates November 23rd – December 29th
Fox River Trolley Museum Polar Express
"The Fox River Trolley Museum will operate three Christmas-themed events for 2019. Please refer to each event's respective page for a detailed event description and purchase options. Please note different dates, prices, times and locations for events."
Departing/ returning to the Jon J. Duerr Forest Preserve in South Elgin
Illumination: Tree Lights at the Morton Arboretum
November 23, 2019–January 5, 2020
"See trees in a different light at Illumination: Tree Lights at The Morton Arboretum. Be surrounded by color as you walk a one-mile paved path amid interactive lighting effects that highlight the beauty of trees in winter. Enjoy seasonal music, marvel at ever-changing, captivating lighting designs, and warm up by a crackling fire with a cozy drink or roast marshmallows for s'mores. In this unparalleled spectacle of color, light, and sound, you will be awed and delighted to see returning favorites and surprising new sights, including Tree Fascination–a brilliant digital projection of immersive color and pattern on a grove of Eastern white and Scots pine trees. Illumination will highlight the many gifts of trees: natural beauty, increased feelings of peace and calm, homes for wildlife, and the air we breathe."
Lightscape at Chicago Botanic Garden
November 22nd – January 5th
"You'll wander into a festive world of wonder and light. Along a mile-long path, the night comes alive with color, imagination, and sound, from a playful choir of singing trees to a spectacular waterfall of light. At times, you'll find yourself in the center of it all — stepping inside a cathedral of golden light, walking down an avenue of luminous linden trees, moving through colorful ribbons of light."
Goebbert's Winter Wonderland Light Show
Friday, November 22, 2019 through Sunday, January 5, 2020; Tuesday – Sunday (closed on Mondays)
"We have new songs, new structures and new designs for the 2019 Winter Season – the show is also 50% longer! Just as a reminder, all of our farm activities are closed during the winter. The only activity on the farm is the drive through Light Show."
Lake County Fairgrounds, Grayslake
"Drive Thru Light Show… Almost a full mile of nearly 1,000 programmable elements and over 200,000 animated lights dancing to Christmas music rather than just the old fashioned still displays."
November 22nd – December 31st
Daily November 2019 through March 2020
"The animals may be hibernating, but we still have gnomes. Can you find all of the gnomes hiding in the Children's Garden?"
Berwyn Park District
You will find special mailboxes at Komensky and Piper schools, Proksa, Freedom, Smirz and Hessler parks, as well as throughout the Berwyn Depot District. IMPORTANT: PLEASE BE SURE TO INCLUDE A LEGIBLE RETURN ADDRESS AND THE NAME OF YOUR CHILD'S SCHOOL OR HOME ADDRESS SO THAT SANTA CAN WRITE BACK!
Downtown Long Grove Holiday Festivities
" Festivities each weekend (Saturdays & Sundays through December 22nd) include complimentary horse-drawn sleigh rides, carolers, Victorian buildings trimmed in lights, and cobblestone walkways lined in luminaries, and special appearances by Santa."
"The streets of downtown Long Grove come alive for the holidays beginning with horse-drawn sleigh starting Saturday, November 23rd.  Thereafter, the sleigh rides will continue every Saturday and Sunday  through December 22nd*.   Kids of all ages may encounter Santa Claus walking through the village, and on occasion, they can also formally meet the Jolly Old Elf and have pictures taken at the Long Grove Visitor Center.  Also helping set the festive mood each weekend will be holiday carolers."
Sign up for sleigh rides in person at the Visitors Center.
Summerfield Zoo Christmas Town
Do you want to meet Santa's reindeer and watch baby reindeer training sessions? Head to Christmas Town in Belvidere!
Visit Friday – Sunday until December 22nd.
The Magnificent Mile Lights Festival
"Two days of free, family-friendly activities lead up to our famous tree-lighting parade to kick off the holiday season – plus special offers from businesses around The Magnificent Mile!"
Friday & Saturday, November 22nd & 23rd. Begins at 4 pm on Friday and kicks off again at 11 am on Saturday.
Watch the parade on ABC7 at 6 pm on Sunday!
November 22–23, 11am–7pm; Sunday, November 24, 11am–5pm '
Millennium Park, Chase Promenade North
"Start your holiday shopping with one-of-a-kind items, including jewelry, fashion, painting, sculpture, prints, drawings and more on sale by student artists."
City of Chicago Christmas Tree Lighting
Friday, November 22nd at 6 pm for the lighting.
The tree will be up until January 6th.
Millennium Park's Wrigley Square, Michigan Ave. & Randolph St.
"The program will feature Grammy® Award-winning artist Jonathan Butler who grew up in Cape Town, South Africa, and recently released his second Christmas album, Christmas Together. Also performing will be Cielito Lindo, a modern Latino Mariachi made up of the 9-member Lucero family. Performing the traditional music of Mexico, these 4th generation musicians are passionate about inspiring families to enjoy music, culture and creativity together. Following, rag doll Eleanor and the elves from Eleanor's Very Merry Christmas Wish – The Musical will show off their wrapping and "rapping." The music performances will be followed by a special appearance by Santa and Mrs. Claus."
Marcus Theatre's
Saturday & Sunday 12 pm – 2 pm
"Enjoy some indoor winter fun at our Frozen II Family Parties! We'll have crafts, snacks, and more. Movie tickets are sold separately."
Follow the link to look for participating locations and ticket availability
It's that time of year again! The Moms of Western Burbs is kicking off our 3rd Annual Holiday Toy Drive for Ann & Robert H. Lurie Children's Hospital of Chicago! These toys will be given to children during hospital stays, after tests, treatments, surgeries, etc to brighten their day! Take note of the links for our Amazon Wishlist & Target Wishlist from the image so you can shop from the comfort of home. The toys you buy online will get shipped directly to us. It's that easy!!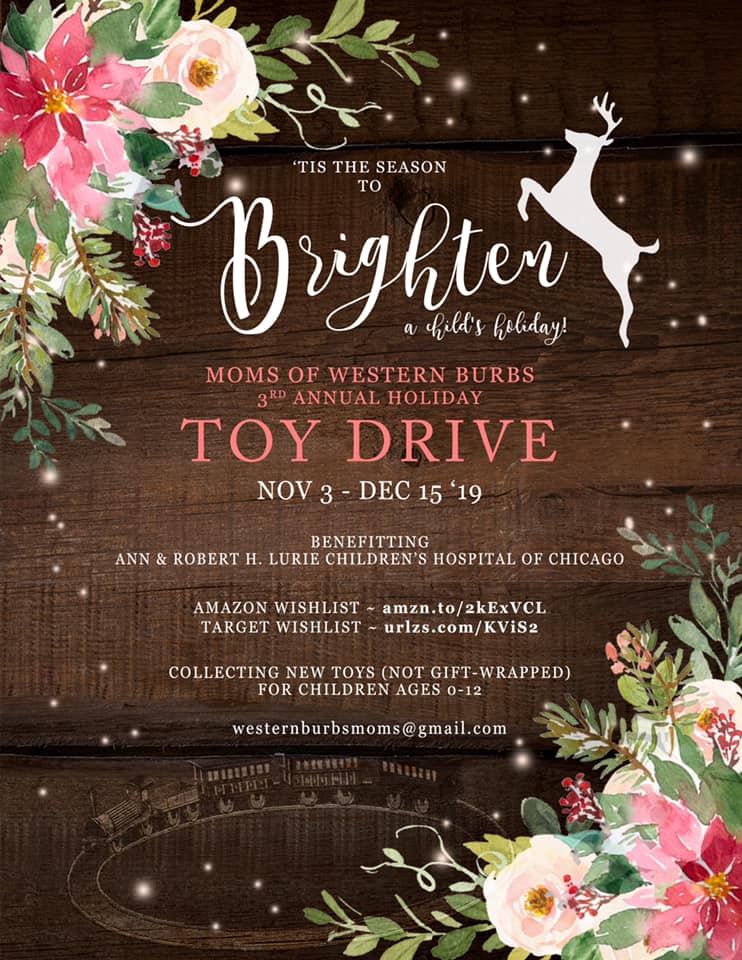 FRIDAY
9:00 AM: Rockin' Tots Thanksgiving Party
Rockin Jump – Carol Stream
9 am – noon
For children aged 6 and under
Tony the Turkey & RJ The Frog will be here to play with our Littlest Guests!! Arts & Crafts! Trampolines! Climbing Wall! Foam Pit! Sweet Treats!
11:00 AM: Arbor Reading Adventures
Wednesdays and Fridays November 2019 through March 2020
(except November 29, December 25, and January 1)
11:00 to 11:45 a.m.
Sterling Morton Library
4$ for member child / 5$ for non member child
11:00 AM: Winter Play
The Morton Arboretum, Children's Garden
11 am – 3 pm
"Join us in the Children's Garden for winter time fun! We'll set out activities to complement the day. Activity may include painting snow or building a fort. Whatever it may be, you'll find all the tools you need to have some frosty fun."
6:00 PM: Elmhurst Christmas Tree Lighting
Come join us for the first Christmas Tree lighting ceremony in Elmhurst!
6-6:30pm — Enjoy festive Christmas Carols
6:30pm — Santa Claus arriving aboard a fire engine!
The Christmas Tree will be lit after Santa arrives. Enjoy hot chocolate & cookies while visiting with Santa Claus!
Held at the Gazebo at the intersection of the Prairie Path & Spring Road: 483 S. Spring Road
6:00 PM: Aurora Winter Lights
Downtown Aurora
 "The festivities include a Winter Lights Market and kick off with a parade on Downer Place at 6:30 p.m. Enjoy Winter Lights Winter Market pop up shops and extended hours at participating stores throughout downtown Aurora. Plus the city tree lighting and fireworks following the parade. Photos with Santa. Costumed characters. Food vendors and more. Santa and Mrs. Claus will stop at Wyckwood House, 14 W. Downer Pl., Suite 16, for photos after the Winter Lights parade."
SATURDAY
9:45 & 10:30 AM: Dupage Symphony Orchestra Winter Favorites
Dupage Children's Museum
"Introduce children to the arts in a family-friendly setting with a Tiny Great Performance™ at the Museum!"
10:00 AM: Frozen Story Time & Dance Tickets
Dynamic Force Dancers: 2150 S. Canalport Ave.
"Join us for the Frozen Story time Dance Party! Our Frozen fest will support local mom and family-owned vendors! Check in-10 am-10:15 am. Every child receives a coloring sheet, arts and crafts time, story time, 30 min tumble / dance class. Moms / Dads enjoy a mimosa with ticket purchase. Every Ticket includes entry to dance class, coloring station, refreshments and candy."
10:00 AM: Mokena Christmas Fest
"Join us at Mokena Elementary School between 10 a.m. and 2 p.m. for Santa's Workshop, crafts, lunch, pictures with Santa and Mrs. Claus, balloon artist, Waxed Hands, and more! Then join us in Downtown Mokena on Front Street for the Parade of Lights at 5 p.m., hot chocolate and cookies, and the Tree Lighting Ceremony. Wrap up the day with the Family Dance at the Mokena VFW Post #725 immediately following the Tree Lighting Ceremony until 10 p.m. Participation in the 15th annual Parade of Lights is FREE and everyone is welcome to enter their float/car/truck or just walk!"
10:00 AM: Saturday Morning Cartoon Brunch
Carbon Arc Bar
The cartoon will be "Superfriends."
"Every weekend morning Carbon Arc Bar & Board takes over Theater 1 of the Davis Theater and shows cartoons! We serve brunch at the bar/restaurant. Using our direct-connect to the theater your children can hang and watch cartoons while you enjoy some delicious grub & drinks! The shows start by 10:00AM and end at 1:00PM on Saturdays and 12:00PM on Sundays. For anyone caught between end of cartoon and end of brunch they will continue to play in the Dining Room of the restaurant."
11:00 AM & 2:00 PM: Barnes & Noble Frozen 2 Celebrations
"Join Anna and Elsa as they embark on an adventure through the forest in search of a mysterious white river. Their mother used to sing about it in a lullaby—but does it even exist? If it does, it might help explain Elsa's magic! Frozen fans will love this new story. We'll also be reading the Frozen 2 Little Golden Book, which is based on the upcoming film, in theaters November 22nd."
"For older readers, there will also be a LEGO Frozen 2 build event on Saturday the 23rd at 2pm! Come build your own LEGO castle and take it home (quantities are limited; available only while supplies last). Event sign up is required; find your local store and sign up here. Come celebrate the upcoming release of Frozen 2 with us!"
12:00 PM: Fiddleheads
Garfield Park Conservatory
"Join us most weekends for activities and projects that get kids and grown ups wondering about the plants and the natural world. Come visit on Saturday or Sunday in the colder months to get a dose of the tropics and keep kids connected to nature throughout winter. And in the summer, join us to explore the beautiful outdoors in our nature play space, Play & Grow. Each week we provide a different science-based activity, like tinkering with plants and blocks, playing games, participating in collaborative art projects, and exploring plants around the world."
12:00 PM: Holiday Fun at Stratford Crossing
"Get in the holiday spirit Saturday, November 23 from 12-3 pm as Santa arrives by helicopter into Stratford Crossing! 🚁 Join Santa Claus, Mrs. Claus, and their elves for a FREE celebration you won't forget! Enjoy face-painting, a magic show, a balloon artist, free giveaways and so much more!"
Bloomingdale
3:00 PM: Family Magic Matinee with Edd Fairman
Newport Theatre: 956 W. Newport
"Edd Fairman of MagicShowsChicago.com presents his Family Magic Matinee, a comedy magic show that is fast and funny enough for the kids but amazing enough to entertain even the most jaded adult. Come out and watch or be a part of the show as a volunteer."
4:00 PM: Elmhurst Holiday Kick Off
City Centre Fountain Plaza
"Bring your camera to the Holiday Plaza Display and visit Santa and your favorite Frozen princess. DJ and treats, too."
SUNDAY
10:00 AM: Saturday Morning Cartoon Brunch
Carbon Arc Bar
The cartoon will be "Little Witch Academia."
"Every weekend morning Carbon Arc Bar & Board takes over Theater 1 of the Davis Theater and shows cartoons! We serve brunch at the bar/restaurant. Using our direct-connect to the theater your children can hang and watch cartoons while you enjoy some delicious grub & drinks! The shows start by 10:00AM and end at 1:00PM on Saturdays and 12:00PM on Sundays. For anyone caught between end of cartoon and end of brunch they will continue to play in the Dining Room of the restaurant."
12:00 PM: Royal's Differently-abled Golden Ball
Astoria Banquet's & Events in Buffalo Grove
"$12.50/person. Differently-abled Child guest of honor is free to attend. Be sure to select Guest of Honor ticket! Royal's Golden Differently-abled Ball is best suited for children with disabilities ages 3-10 years old. Handicap accessible. Wheel chairs welcomed. Royal Princess Parties will host a Princess Sing-a-long, individual meet & greet with the Princesses and photo opportunities."
12:00 PM: Winston Plaza Holiday Fun
Melrose Park
"Get in the holiday spirit Sunday, November 24th as Santa arrives by helicopter into Winston Plaza! 🚁 Join Santa Claus, Mrs. Claus, and their elves for a FREE celebration you won't forget! Enjoy face-painting, a magic show, kids crafts, a balloon artist, free giveaways and so much more!"
12:00 PM: Fiddleheads
Garfield Park Conservatory
"Join us most weekends for activities and projects that get kids and grown ups wondering about the plants and the natural world. Come visit on Saturday or Sunday in the colder months to get a dose of the tropics and keep kids connected to nature throughout winter. And in the summer, join us to explore the beautiful outdoors in our nature play space, Play & Grow. Each week we provide a different science-based activity, like tinkering with plants and blocks, playing games, participating in collaborative art projects, and exploring plants around the world."
1:00 PM: A Soup Opera
Soup & Scoops
"Calling all Pre K thru 2nd grade kids! Come join us for some interactive fun with the book A Soup Opera by Jim Gill. Read the book then watch it come alive while you make your own s'mores or ice cream sundae. This is an experience not to be missed!
Event is free. Call to reserve your spot. Need to borrow the book? We have books for loan at Soup and Scoops based on availability."
2:00 PM: Royal's Golden Ball
Astoria Banquet's & Events in Buffalo Grove
"Royal's Golden Ball is best suited for children with ages 3-10 years old. It's an afternoon filled with Princesses, singing, lite food, treats and fun!"
https://whatshouldwedotodaychicago.com/wp-content/uploads/2019/11/what-should-we-do-this-weekend-chicago-Christmas.jpg
800
1200
Helen Bosacki
https://whatshouldwedotodaychicago.com/wp-content/uploads/2019/05/What-Should-we-do-today-Chicago-desktop_03.png
Helen Bosacki
2019-11-21 13:59:24
2019-11-21 14:00:25
What Should We Do This Weekend? Chicago, IL November 22nd – 24th, 2019