What Should We Do This Weekend? August 30th – September 2nd, 2019 Labor Day Weekend!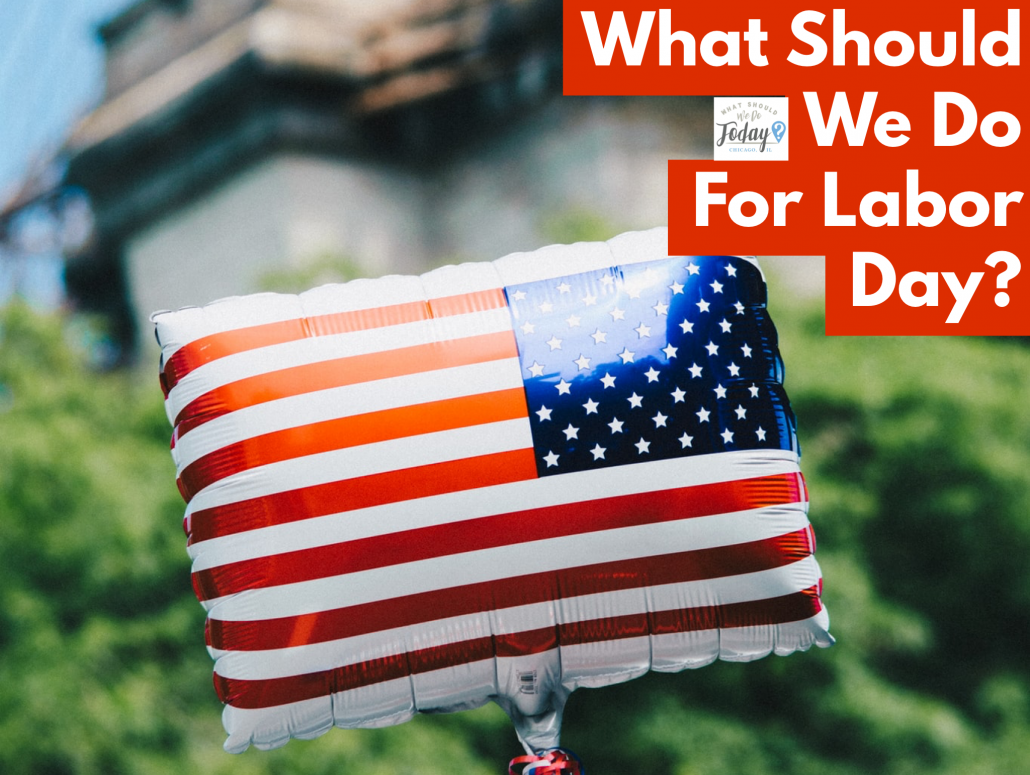 Looking for kid-friendly things to do Labor Day Weekend in Chicagoland? Here are over 30 ideas!
Major Festivals / Parades / Events:
The 'Burbs:
Aurora
Alley Art FestivalAugust 31st from noon – 5 pm

Water Street Mall in downtown Aurora
A day of fun, music, and art
Hands on activities for children as well!

On The Wall FestivalSeptember 1st, 12 – 7 pm

Culture Stock; 5 E Downer Place, Aurora
"The annual On the Wall Festival is an all-ages, free event featuring live art, breakdance, DJ sets, and food trucks! This family friendly event celebrates the elements of hip hop in a lively, festive atmosphere. Special occasions for this edition include the addition of a car show and the celebration of organizing crew Them Bad Apples 30th anniversary."
Batavia: Taste Of Batavia & Downtown Block Party
September 1st, 4 – 9 pm
Kids Activities and play area hosted by River City Church 4pm – dusk
Lawn games and bags
Hula Hooping by Peg Bond
Classic Car Show on River Street
Pie Bake-off
Bristol, WI: Closing Weekend of Bristol Renaissance Faire
Kenosha, WI off I-94 at the Wisconsin Border
Saturdays and Sundays, July 6th – Sept 2nd, 10 am – 7 pm
Children are free
"It is the final weekend, but you have THREE DAYS to experience the magic of the Bristol Renaissance Faire's 2019 season! Join us as we pull out all of the stops and close out the 2019 season with three days of fun, fantasy, and frivolity!"
Buffalo Grove
Buffalo Grove Labor Day ParadeSunday at 11 am

The parade will start from the intersection of Bernard Drive and Indian Hill Drive. It will travel east on Bernard, turning north onto Raupp Boulevard, and then dispersing at Raupp & St. Mary's Parkway.
Geneva : Fox Valley Folk Festival
September 1st & 2nd
Island Park, Geneva
8 stages playing from 11 am – 6 pm each day
"On Sunday Only, From 6 to 7:30 PM Is Our Old-Time Community Barn Dance
And From 7:30 to 10 PM Is "Ghost Stories" In The Main Music Stage Tent."
Highland Park: Ravinia Music Festival
Thursday, August 29th – Monday, September 2nd
Out of the many concerts being performed this weekend, bring the kids to the Mames Babeganush Kids Concert! Monday, September 2nd at 11 am
Lake Forest: Deer Path Art League Art Fair on the Square
September 1st – 2nd; 10 am – 5 pm
Market Square, Lake Forest
"The 65th Annual Art Fair on the Square is the signature event for the Deer Path Art League and our gift to the community. The two-day, juried fine art show, located in historic Lake Forest Market Square, attracts over 20,000 attendees, is free to the public, and celebrates the individual artisan."
Long Grove: Irish Days
"All eyes will be smiling when the historic shopping district of Long Grove presents Irish Days, a celebration of Irish culture, music, food, and drink. The event is scheduled for Saturday, August 31 – Monday, September 2nd. Admission and parking in municipal lots are free."
Maple Park: Maple Park Fun Fest
August 31st – September 1st
Fun for the whole family and FREE
Melrose Park: Taste Of Melrose Park
Friday, August 30th 5pm-11pm
Saturday, August 31st Noon-11pm
Sunday, Sept 1st Noon-10pm
100 N 25th Ave, Melrose Park
65 unique food offerings (no two stands sell the same thing), all priced $3 or less
Carnival, 4 stages of entertainment, Sunday night fireworks extravaganza at 10 pm
Naperville: Jaycee's Last Fling
August 30th – September 2nd
Near Naperville Central Highschool, across the street from Rotary Hill
Children aged 12 and under are free admission with paying adult. Carnival is free admission to all.
The Labor Day Parade takes place on Monday at 10:00 am
"The Naperville Jaycees' Last Fling is a family-friendly community festival which takes place over Labor Day Weekend in and around Downtown Naperville and, for many, is a fun way to say farewell to summer! The Last Fling offers a wide variety of attractions for all ages to enjoy including: national and local musicians on two stages, Family Fun Land, a carnival, unique special events, a business expo and a running event."
"Special Needs Day is Sunday, September 1st from 10:00 AM – 12:00 PM. Patrons with special needs will get exclusive, priority, no-wait seating with special wristband.  All participants must have a chaperone and wristbands are for special needs guests only. Park opens to the public at  10 a.m. and wristbands remain valid until 12 p.m. Please stop by the carnival ticket booth to pick up wristband starting at 9:30 AM."
Niles: 119th Annual Feast of Maria SS. Lauretana of Altavilla Milicia
August 30th – September 2nd
8400 W. Church St, Niles
"Celebrate the longest running Italian Fest in the Chicagoland area!!! Join us this Labor Day weekend from Friday August 30 thru Monday September 2 for the 119th Annual Maria SS Lauretana festival in Niles! Enjoy food, rides, live entertainment, beer and wine garden and more!"
Schaumburg: Septemberfest & Labor Day Parade
Saturday, August 31st – Monday, September 2nd
Robert O. Atcher Municipal Center: 101 Schaumburg Ct.
FREE admission
Arts & Crafts, Bingo, Carnival, Music, Food, Craft Beer, & Fireworks
Labor Day Parade

Monday, September 2, 2019. Parade kicks-off promptly at 10 a.m. Line-up is on Wise Road between Roselle Road and Plum Grove Road at 8:30 a.m
Yorkville Hometown Days Festival
Thursday August 29th – September 1st
Beecher Community Park: 908 Game Farm Rd.
There are more events going on at this festival than I can possibly name. Ultimate Air Dogs, Pet Fest, music, Craft Fair, Family Bags Tournament, and more! Use the link to get more information!
Chicago
Friday, August 30th – Monday, September 2nd
 Friday 1pm – 10pm Saturday-Monday 10am – 10pm
Washington Park: 5100 S. Cottage Grove Ave
 "Annually during Labor Day Weekend, the Festival grounds in Chicago's Washington Park come alive in a simulated African village. Attendees are transported across the Diaspora with interactive engagements, vibrant drumming, museum quality and collectible artifacts, colorful and rich handwoven fabric and textile, and other program spaces and Interactive spaces include: Drum & Afro-folk Village, Children and Family, African Heritage, African Spirituality, Wellness (Health) Village, Books and Authors, Fine Art, Film and Video, Food Court, Seniors and Quilting, and the African Marketplace. "
Thursday, August 29: Chicago Cultural Center, 12–4:30pm & Millennium Park, 6:30–9pm; Friday, August 30–Sunday, September 1: Millennium Park, 11am–9pm

"The Chicago Jazz Festival showcases the greatest jazz artists from Chicago and around the world across the city during new, extended festival dates. The Chicago Jazz Festival is produced by the Department of Cultural Affairs and Special Events and programmed by the Jazz Institute of Chicago."
FREE!
Navy Pier: Friday & Saturday | 12-10PM, Sunday | 12-9PM
"The Great American Lobster Fest is the Midwest's largest Lobster and Seafood Festival. We're returning to Chicago's legendary Navy Pier on Labor Day Weekend to celebrate Summer's Last Hurrah! Enjoy live lobster flown in fresh from the cold waters of the East Coast courtesy of our official seafood provider, Lobster Gram, live music performances, family-friendly games and activities, unique arts/craft shopping, land food options, and cold beverages."
Last Chance Navy Pier Fireworks & Free Music On The Lake
Saturday – Monday
Miller Lite Beer Garden
This free, all ages concert is presented as part of Live on the Lake!, Navy Pier's free summer music series in the Miller Lite Beer Garden.
Don't forget that Saturday is the last chance to view the infamous Navy Pier fireworks this season!
Friday, August 30 at 7pm
Saturday, August 31 at 12pm and 3pm
Sunday, September 1 at 12pm and 3pm
"Midnight Circus in the Parks is an eclectic ensemble of artists with a shared vision that live performance has the power to engage and inspire our audience, our community, and our world. We bring world‐class contemporary circus performances to communities throughout Chicago and raise money for Chicago parks with the proceeds."
August 30th – September 2nd
"This annual Labor Day weekend taste fest in Chicago offers non-stop LIVE MUSIC, food, and fun for four days.  It's a must-do family event with enough scheduling to keep both little kids & adults happy."
FRIDAY
11:00 AM: Acorn Express Adventure
"Join us on the Acorn Express tram for a family friendly tram-ride adventure through the Arboretum! We'll seek out fun destinations to hike, make a craft, and explore new topics each week."
5:30 PM: Family Camping Festival
Randall Oaks Park
Bring your friends and family, tent set-up, sleeping bags, a dish to pass for our potluck dinner and let us do the rest.
Register here: https://bit.ly/2Gq849f
Fee is per person, children under 3 years old are free. Clean, lighted washrooms are nearby and open all night.
SATURDAY
8:00 AM: Johnson's Raspberry Festival
August 31st – September 2nd
Raspberry UPICK is only available on festival weekends!
Johnson's FUN FARM is a crowd favorite for our festivals! What is our fun farm?! Included in the entrance fee is access to our fun farm! Included in our fun farm:
-Jump Pillow and Jump Pad
-Corn Box
-Obstacle Course
-Pedal karts
-Pipe Swings
-Strawberry Express Train (Included in All Access)
-Blue Choo Rides
-Triple Slide
-Goat Village
-Straw Mountain
-Sports Games
-Super Fun Inflatables
-Johnson's Village
-Produce Cannons (included in All Access)
and MORE!
9:00 AM: Apple Picking Begins at Stades Farm & Market
"Apple picking begins on Saturday, August 31st at 9 am. Bring your family and your friends for a wonderful, memorable experience in our 8000+ tree apple orchard. And don't forget your camera!"
"Our orchard is open 9 am – 5 pm, August 31- September 2nd and will continue to be open through Oct. 27th"
11:00 AM: Zestar Picking at Royal Oak Farm Orchard
"Come celebrate the opening of the Zestar Apple 🍏 for U-Pick! Cousin to the Honeycrisp, Zestar is full of amazing flavor, sweet and crisp, fresh and delicious. One of the best early varieties we grow is an Apple you shouldn't miss. This one goes fast folks, so be sure to enjoy a great Labor Day weekend picking this delicious variety! "
2:00 PM: 5th Annual Bolingbrook Vet Fest
2 – 8 pm
The Performing Arts Center – Village of Bolingbrook
Supporting Honor Flight Chicago, Free Admission, Family Friendly
2:00 PM: Oswego Beats & Eats
Main Street in Downtown Oswego
2 – 11 pm
FREE admission, bring a camp chair for seating
SUNDAY
8:45 AM: Sensory Friendly Sunday at The Morton Arboretum
"Experience a less crowded Children's Garden with minimal noise, suited to families with sensory needs." 
11:00 AM: Chicago Botanic Garden Family Sunday
"Drop by the Malott Japanese Garden for hands-on activities related to Japanese arts and culture. Kids of all ages can make projects to celebrate summer—make fish prints (gyotaku), create a paper fan (uchiwa), design a samurai helmet (kabuto), and more, at family-friendly, hands-on stations."
This Sunday make Kimono paper dolls!
11:00 AM: Apple Cider Tasting Event at Kuiper's Family Farm
"Stop by to sip, sample and rank your favorites for free.  Then enter your feedback for a chance to win free Cider Doughnuts!  It's a sweet cider win-win!"
4:00 PM: Labor Day Concert in Orland Park
"Join us for our annual free Labor Day Concert in Centennial Park West on September 1, 2019.  Grab a lawn chair and picnic blanket and enjoy a final summer night out with your family!"
Have a safe and happy Labor Day weekend!
https://whatshouldwedotodaychicago.com/wp-content/uploads/2019/09/img_1698.png
1540
2048
Helen Bosacki
https://whatshouldwedotodaychicago.com/wp-content/uploads/2019/05/What-Should-we-do-today-Chicago-desktop_03.png
Helen Bosacki
2019-08-29 02:57:57
2019-09-04 09:22:55
What Should We Do This Weekend? August 30th – September 2nd, 2019 Labor Day Weekend!